KNITWEAR: WINTER LAYERING
Friday 9 June 2017
Winter has arrived and with it crisp mornings and frosty nights. You don't have to dress like the Michelin Man to brave the winter chill. Knits are a great way to add warmth without bulk.
You can wear a knit as your hero top layer with a tee and denim or chino. Or for a sartorial take layer a knit over your shirt and tie to add warmth to a suit for the workday commute.
Also, our lightweight knits are designed with a fine weave to be worn under our slim fit blazers so you don't look like you're about to expand into the incredible Hulk.
There's a few different knit styles in our A/W17 Collection. Here's the run down.
THE TEXTURED WEAVE
Woven texture in knitwear adds interest, a touch of sophistication, without going overboard. If you're looking for an even bolder look, pair with a patterned shirt or blazer. Our textured styles feature waffle and diamond weaves – yep, we've kept it clean to give you a sharp silhouette. But if you're not ready to dive into texture our Hudson navy knit features a textured front panel that's a subtle nod to this style.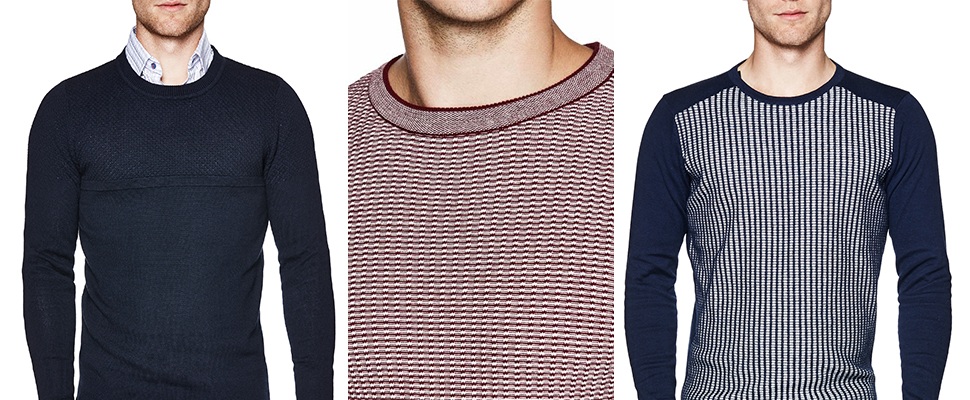 THE MARLE EFFECT
A marle finish delivers that effortless cool look that pairs so well with denim and chinos. This season we're featuring this speckled-look weave in our cobalt blue Ethan and light grey Sebatian marle knitwear. Designed with a crew neck, we've kept the lines clean to let the marle detail do the talking.
THE ZIP-THROUGH
The ultimate knit-jacket hybrid that can be worn alone, over a tee or shirt or under a blazer or winter jacket. It's pretty darn versatile. Our grey marle Thorne design has a wool-blend cable knit base with a diamond detail overlaid, yep it's all in the details. Our navy Marlo zip-through features a cable knit design and is crafted from cotton for lightweight layering.