Previous Story
Next Story
S/S 2021
What To Wear Where - The Races and Spring Formal
Friday 09 October 2020
All the seasonal menswear trends to pay attention to for the races and beyond
2020 will certainly be a Spring Racing Carnival like no other. The party might be moving from the marquee and grandstand to the sofa and the backyard, but why should we miss out on an opportunity to put on an outfit that makes you feel like you are bossing it in The Birdcage?
It's not just about the races, it's time to signal a change, a time to move on, getting back to the office, weddings, christenings-
all those things that may have felt like a chore at one point but now we are craving to do again...
So, whatever spring occasion you have on, we've put some fresh spring outfits together that will make your tired and overworn sweats wish they had a bit more to offer your wardrobe.
TAKING A PUNT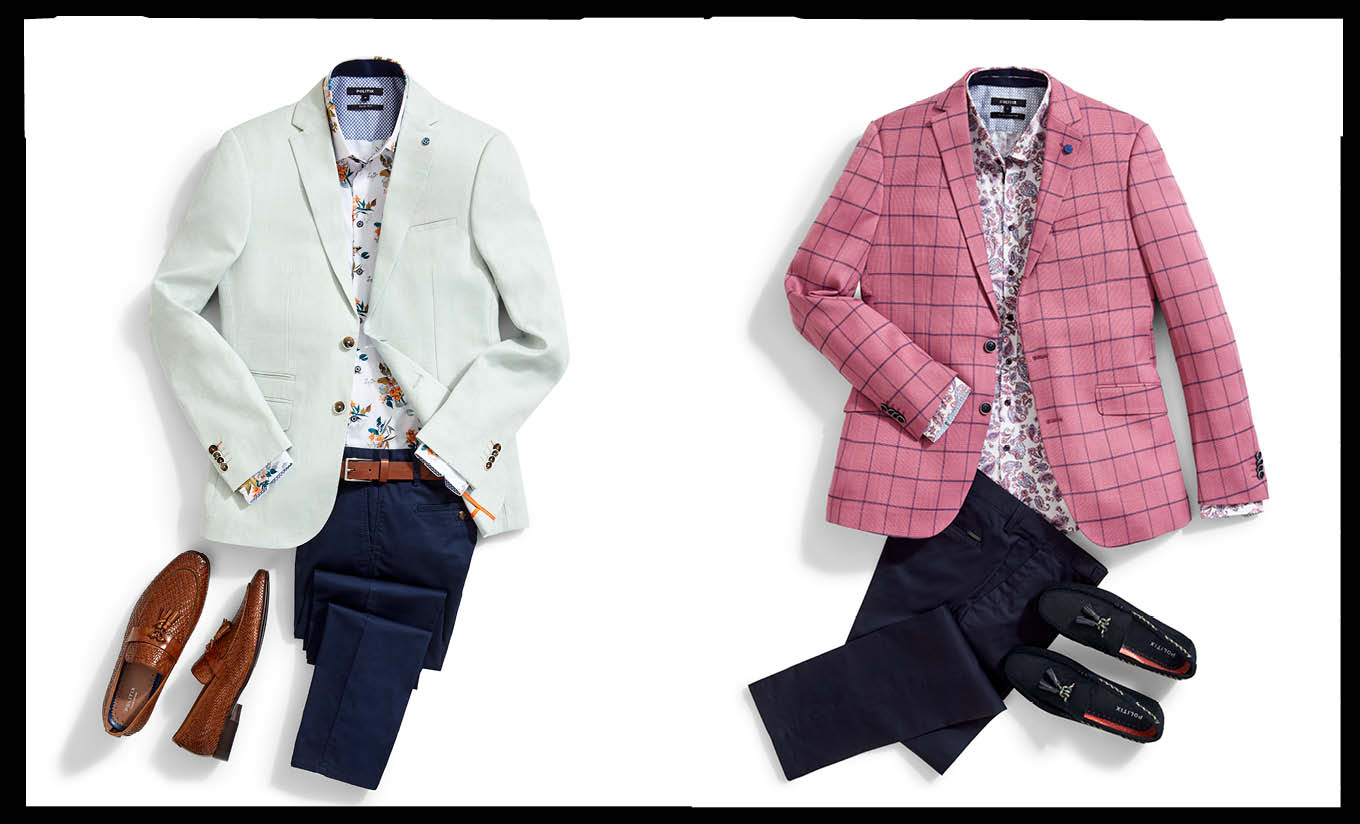 BOLD COLOURS AND PATTERNS FOR MENSWEAR THIS SEASON
When it comes down to it, the easiest way to make a statement is to add a bit of colour. It needs to be used well like this Southwick jacket where the accent colours match with our Highbury chinos (supporting the BCI initiative) and white-based paisley print Gissi shirt.
The Southwick jacket is made of a stretch linen blend that means it holds its structure (probably more than you after a few celebratory drinks) and with recycled polyester linings so you can feel good even if your tips don't.
You don't want your outfit to lose its impact if you take off the jacket, so meet our intricate paisley slim stretch shirt. The Gissi shirt is a perfect match for most spring outfits, a little bit different from the usual spring florals and designed in-house by our team in Australia.
Or perhaps you like more of a subtle look, understated confidence? For that, we have a similar approach with our Kipp Mint Jacket. It is a unique colour and, because of it's lighter shade, very versatile - easy to dress up or down.
To make this outfit turn heads, we have paired it with the Sirri multi-floral shirt with the core colours for spring - pastel blues, earthy tones and pops of orange (take note of the matching jacket lining - it's all in the detail)
We put these outfits together for the key race days this Spring, so they are perfect for Melbourne Cup or Oaks day. But we just like these combinations for any occasion that calls for a bit of confidence and sharpness.
ODDS ON FAVOURITE
THE CLASSIC MEN'S BLUE SUIT AND WHAT TO LOOK FOR WHEN BUYING
A blue suit is by far the most versatile piece tailoring you can own. Pretty much any shirt colour and accessories will compliment it. Well, almost any. Maybe not anything in fluorescent or turquoise with yellow dots, but most normal colours will always compliment a blue suit.
The shade of blue If we were to pick a favourite, it would be the Langstone Suit Jacket and Hyder Pant with its beautiful royal blue textured fabric - a standout piece in our current collection. Perfectly matched with brighter prints or a crisp white shirt. Once you are done looking dapper at the track, royal blue is a perfect colour for making a statement in the office.
What the suit is made of there is more than meets the eye when it comes to our suit. It doesn't just look and feel like a winner, it's also made from
Repreve fabric, which is created from recycled plastic bottles, and lined with recycled polyester. Aside from doing good, it also helps with things like wicking, regulating heat, and water repellency. And we thought it was good already.
Texturing most of the best suits will make you want to touch them. A slight weave, a linen finish or even the linings that make sure you have comfort in all the right places.
And of course there's the fit. We have a few fits in our suit range and our most popular is our slim fit. You don't need to be slim to wear this cut, it just means that it is tailored so it feels like it has been made just for you, with added stretch.
The Blue suit is perfect for all race days; the Everest Cup, Stakes day or the main events that stop the nation. It comes down to how you style it, so read on for tips on our top accessories.
THE BONUS BET – PASTEL SHADES
HOW TO GET MORE WITH SUITING SEPARATES
Mix and match is a key focus for us and we wanted to show you how it can be done with our latest Andrews Suit Jacket and Adelaide Pant. It comes in powder blue or seen here in pink. These suits are sold as separates so, if you want something that works after the final cork has popped, separates are the way to go.
Dressed up or dressed down, separates can turn one purchase into a heap of different possibilities.
We have shown two ways to wear the Andrews Suit. One with our new relaxed textured Auckland shirt and another, dressed down but still elevated, with the Wanaka knitted crew neck and Rohaan limited edition sneaker.
Perfect for Oaks Day (blokes day) or when you need to tone things down for a softer approach.
THE WINNING MOVES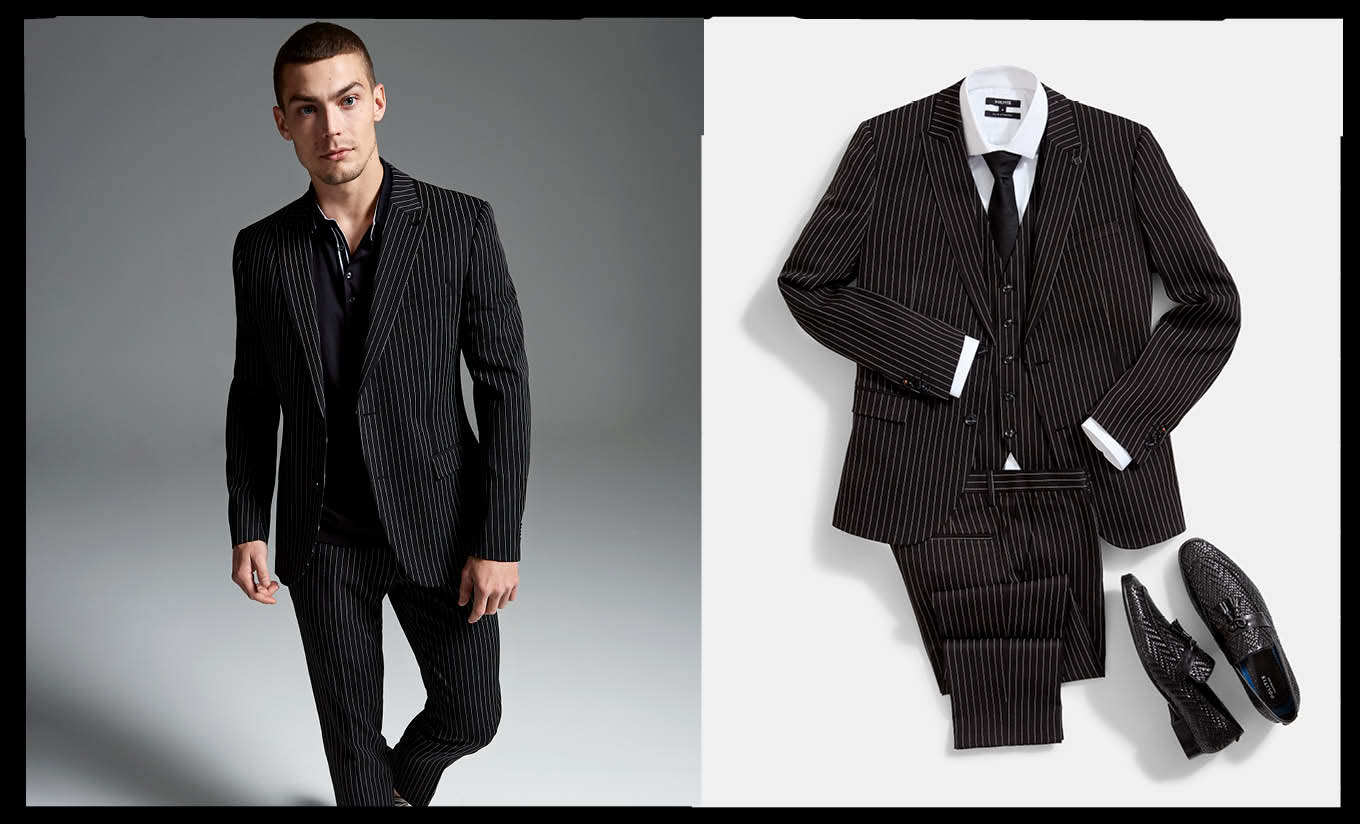 THE THREE-PIECE SUIT - NAILING THAT CLASSIC STRONG LOOK
Monochromatic separates create an interesting style story when done right. Instead of opting for plain black on Derby Day, look to incorporate the best of both; black and white pinstripes are a strong nod to the rules but with a lot more attitude. There is something pretty boss about a black pinstripe suit, particularly when it comes with a vest, so let's keep it timeless and let the suit do the talking. Our three-piece Northolt Suit is the perfect choice when wanting to stand out in a sea of black.
Our Edisson shirt in white is famous for its stretch, giving it a unique fit and feel. It's one of our top sellers for a reason. Try it, we can promise you won't ever use the words 'plain shirt' when describing it.
The shoes, the pocket square and the tie should be kept in-line with the black theme, but you can add an extra bit of detail with a lapel or tie pin and handwoven Marano slip on loafer
THE SIDE ACTION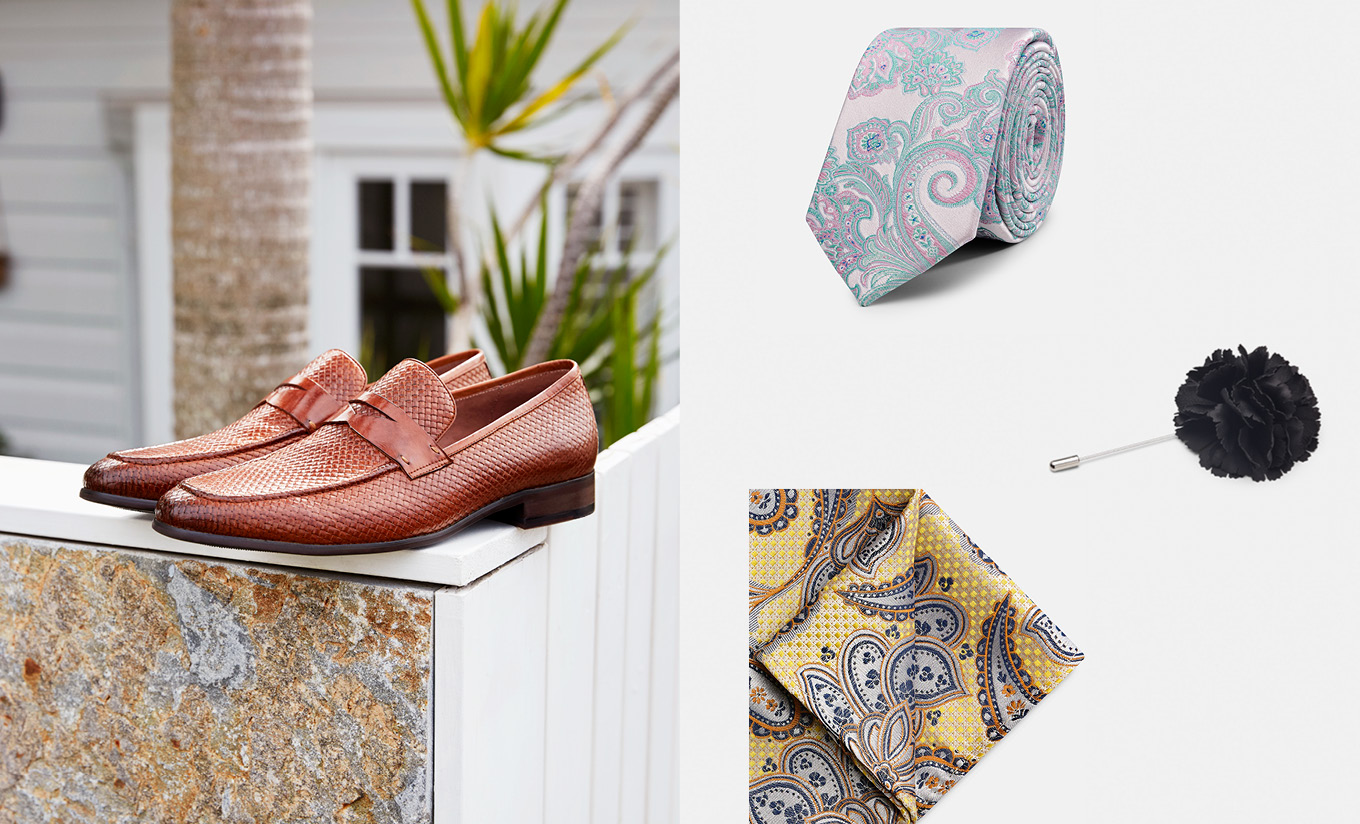 OUR SEASONS MUST HAVE ACCESSORIES
Events might be changing, but that doesn't mean details are dead in the water… Ties and accessories are bolder and brighter than ever this season to mix and match personal looks to create the perfect piece on the side. We've taken the trend colours from outerwear and electrified the hues to go tonal or add contrast to the customers looks. It wouldn't be politix without adding flare to your look - so step in accessories.
Whether you want to go simple with our Niki flower lapel pin in white and the henry tie or add it in blue with the ravelle pocket square for a bolder look.
We've made even easier for you this spring racing season to add the finishing touches but creating the 3 piece accessories gift box with pocket square, tie and socks so you dont even have to think about the final pieces.
Or step it up and go the 4 piece accessories gift box to elevate your look - and don't worry about losing them in your wardrobe, as you can keep the box and always find them. You're welcome.