Previous Story
Next Story
SHOES FOR MEN
Guide to Men's Shoes | Styling for any occasion
Thursday, 15 April 2021
By Paul Burden, Head of Design
Men tend to lump their shoes into pretty broad categories. There's the 'casual' category, which includes everything from sneakers and Chukkas to beaten-up thongs. Then there are 'fancy' shoes, which means basically everything else: Oxfords, loafers, Chelsea boots, Monk straps, boat shoes, Derby lace-ups.
Anything that looks good under a suit. But when you actually dive into men's shoe styles, there's a lot more going on than 'weekend' versus 'wedding'. Men's shoes have a sort of hierarchy. Some are fancier than others. And each one works better on certain occasions.
Consider this your crash course intro to men's shoe styles.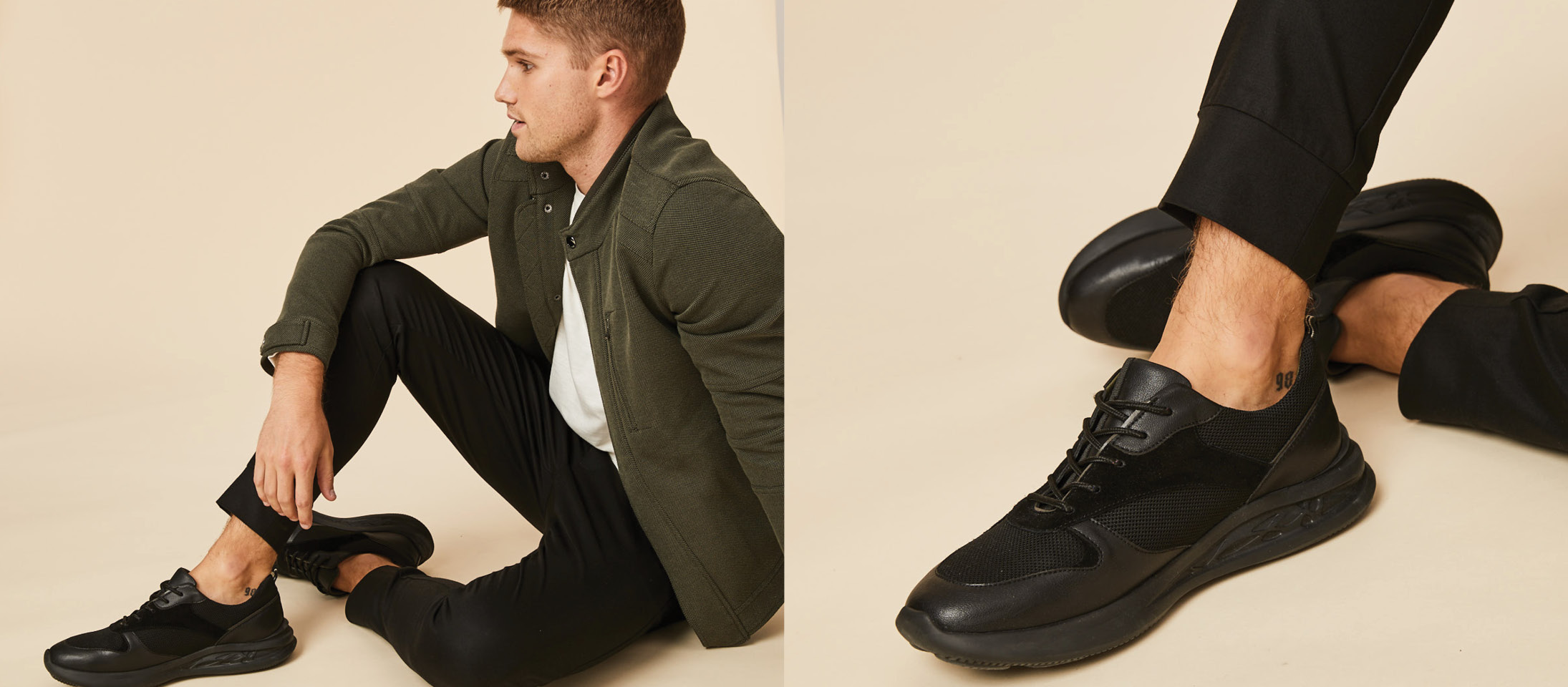 01

Chelsea Boots

You'll know a Chelsea boot when you see one. These guys are close-fitting, ankle-high leather boots that look good under jeans or suit pants. What makes them a 'Chelsea' is the elastic side panel (technically their upper needs to be made from two pieces of leather, stitched together). The Chelsea boot has been a favourite of rockstars and trendsetters over the years, including The Beatles and The Rolling Stones. These days, it's your go-to smart casual boot. Almond-toed suede Chelsea boots look great under jeans or chinos. If you want to match Chelsea boots with a suit, look for a chiseled toe, traditional leather, and clean, sharp lines.
02

Chukka and Desert Boots

People use 'Chukka Boot' and 'Desert Boot' interchangeably, but they're actually different shoes. Chukkas traditionally have a leather sole, while Desert Boots are finished in crepe rubber. Technically, Desert Boots are a kind of Chukka, but both styles work pretty much the same way. They're your classic weekend casual boot: with that iconic high ankle, rounded toe, three eyelets and thin laces. Styling these guys is incredibly easy, which is what makes them so versatile. Throw them under jeans, chinos or even shorts. Also keep an eye out for toe-cap, lace-up worker boots. These are chunkier, military-style desert boots, with thick rubber soles and high ankles—perfect for the colder months.
03

Oxfords

Moving into the dress shoes now, we've got our old favourite: the Oxford. There are a bunch of different types of Oxford—Plain Toe, Wing Tip, Whole Cut, Cap Toe—but don't worry too much about that stuff. Your basic Oxford is known for 'closed lacing', which means the two front bits come together underneath the vamp. This makes it look like the Oxford is forged from a single piece of leather. It's your no-nonsense business shoe, dress shoe or black tie event shoe, with clean lines that suit a slightly narrower foot. If you're going for versatility, look for colours like black, tan or dark brown. Odds are good they'll match with most of your suits.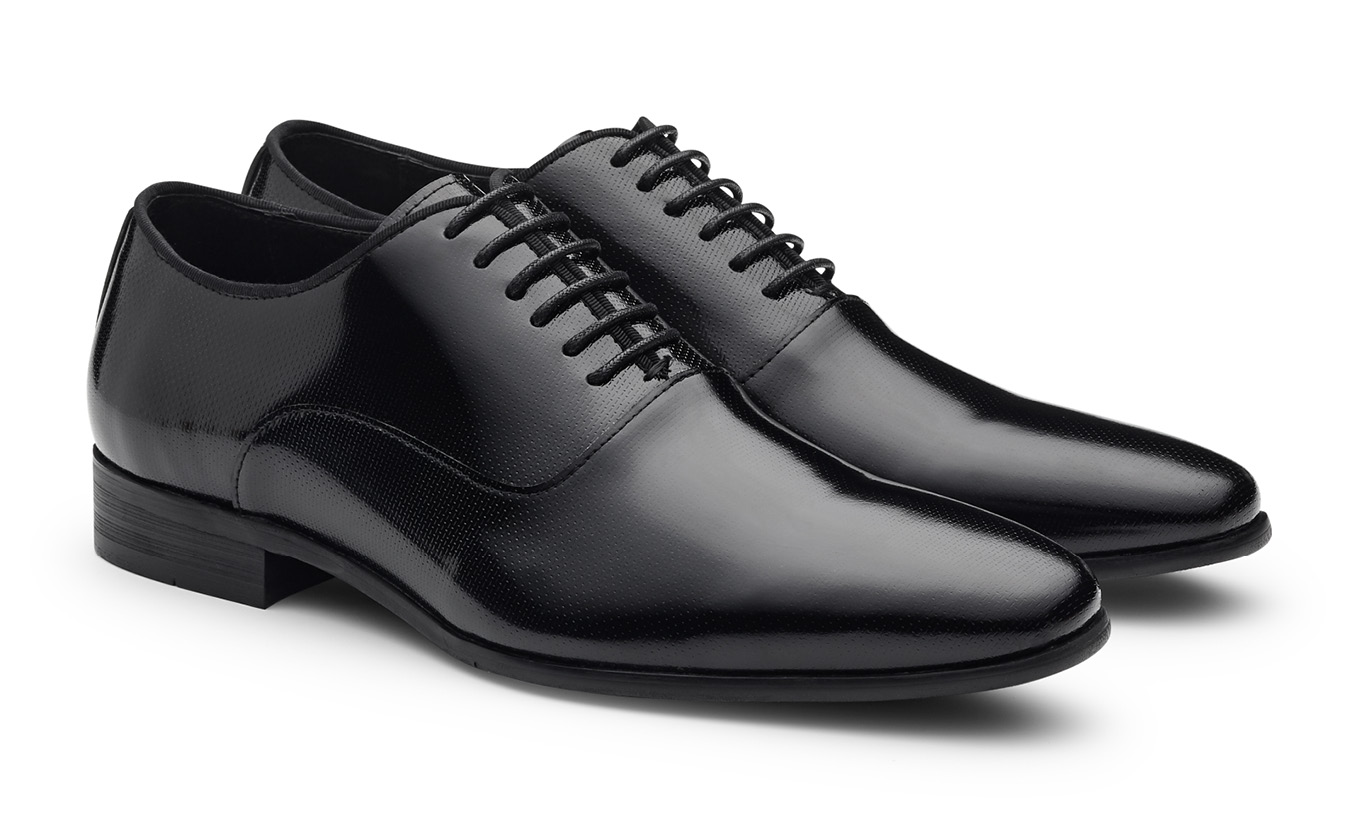 04

Derbys

Derby shoes look pretty much like Oxfords, except in this case the lacing is 'open'. That just means the two halves of your shoe sit above the vamp. It also means Derbys aren't quite as formal as Oxfords. They've got a more casual vibe about them (with some obvious exceptions). This makes them perfect for textured suits, linen blend suits, wool knit blazers and smart casual events. You can throw Derbys under a navy wool suit or tapered dress chinos—it's really up to you. Because of their wider, looser fit, some people reckon Derbys are more comfortable than Oxfords. Something to keep in mind for those weddings that drag on and on…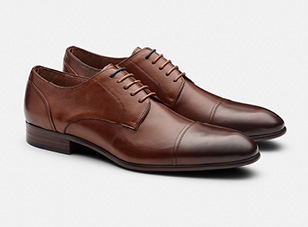 05

Brogues

'Brogues' aren't actually a type of shoe. 'Brogueing' just refers to the punched leather pattern on the shoe's surface. You can have Oxford brogues, Derby brogues, even brogued loafers. Some ankle and Chelsea boots also come with brogueing these days. Really though, brogues aren't fancier than any other type of dress shoe—it's more down to personal taste. You either like patterned leather or you don't. The only time you should really skip brogueing is when it says 'black tie' on the invitation. Stick to simple, black, patent leather shoes for black tie events (Oxfords or Derbys are ideal). You don't want flashy details to distract from your tux.
06

Loafers

Loafer basically means 'dress shoe without laces'. If you see a leather slip-on that looks like it belongs under a suit, you're probably looking at a loafer. These guys became the go-to business shoe in the 1960s, and they're still very popular today. You can get 'Penny Loafers', 'Tassel Loafers' and 'Bit Loafers'. They come in leather or suede. And you can find loafers that match pretty much every colour of the rainbow. We like these guys for smart-casual event wear or Saturday at the races. They're more comfy than Oxfords and Derbys—we make ours with hand-woven uppers, half-lining and flexible soles—and they've got a sleeker, more contemporary shape. If you're thinking of rocking loafers under a business suit, stick to sharp Penny Loafers.
07

Driving Shoes

Driving shoes were made for driving. Makes sense, right? This is an umbrella term for any slip-on casual shoe made from suede, leather or Nubuck, usually with a grippy, rubber-grommet sole. The big ones you want to look out for are moccasins and driving loafers, but we could chuck boat shoes and even espadrilles under this category. The trick with driving shoes is comfort. You want to look breezy and casual. That means chino shorts, linen shirts, good-quality Ray Bans, or maybe some high-cuffed chinos. Wear these guys on long road trips or weekend getaways. They're insanely comfy—more like foot gloves—and you can slip them off when nobody's looking.
08

Sneakers

We'd need a few thousand words to break down all the different types of men's sneaker. But here's the short version. Start with one pair of white leather or black leather sneakers. These are the most versatile shades, and you can wear them anywhere except weddings, funerals and job interviews. They even look good under slim-fit navy or charcoal suits. Once you've got the basic styles nailed, branch out your collection and look at tonal leather sneakers (like the Toscella), chunky athleisure sneakers and suede casual sneakers. Styling these guys is a no-brainer: wear them under jeans, wear them under chinos, wear them with shorts, wear them to the gym. Just remember to get your hem right: when it comes to sneakers, your pants should sit slightly higher on the ankle, neatly cuffed, without the natural 'break' you get with suits pants. Sneakers are made to be seen. Let you ankles get some breeze.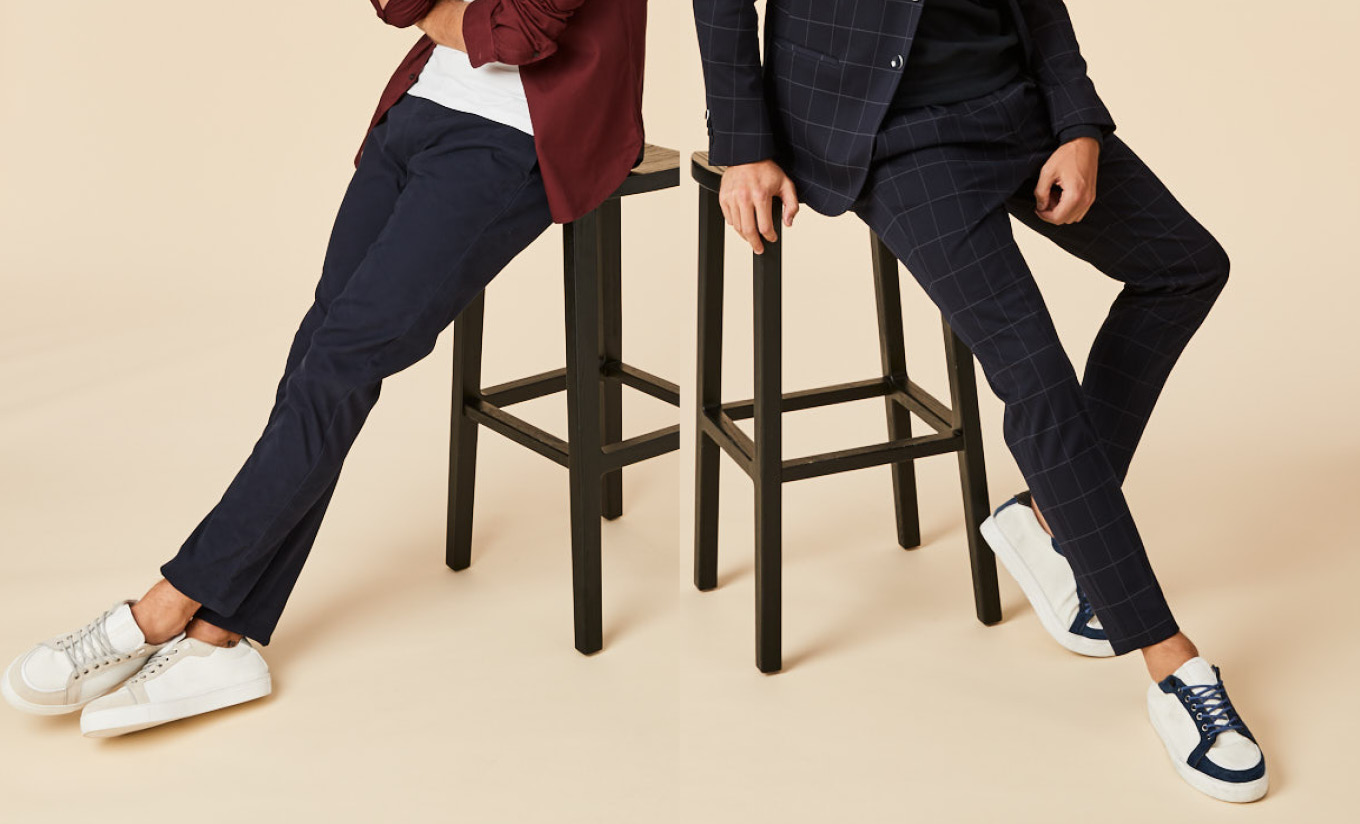 09

Men's shoe sizes

To make things more complicated, men's footwear comes in different size systems, depending on where you are in the world. If you're shopping in Australia, most brands (including POLITIX) use European shoe sizes, which range from 36 to 55. America, Japan and the UK have their own special sizing schemes. We've put together this handy comparison chart, if you need some help. Don't forget that some styles of shoe fit wider, narrower, shorter or longer than others. It even varies by make and brand. It's always better to try a pair on before you buy, or at least use an online retailer with a good returns policy.
10

Men's shoe care

Leather is a hard-wearing material, but it needs some love. Look after your shoes and they'll be keeping your feet dry for years. Chuck them in a cupboard and forget about them, and you've got a very expensive shoe hobby on your hands. The good news is, leather care doesn't have to be complicated. A basic shoe care kit will help waterproof the surface, clean away dirt and grime, and keep the leather supple. Remember, leather is basically skin, and just like your own skin, it can dry out, attract impurities, or crack and wrinkle. Polishing and cleaning your shoes every few months will massively extend their life. For dress shoes, think about investing in some leather shoe trees, too. They'll help those expensive Oxfords or Derbys keep their shape, year after year, wedding after wedding.
Paul Burden, Head of Design
Paul Burden has an infinite wealth of knowledge in men's style, having worked 30 years in the fashion industry. He's tuned in and turned up to all the latest trends in Australia and around the world. Paul is our Jedi of men's fashion and the Head of Design at POLITIX. He draws inspiration from movies and pop culture, always paying homage to classic menswear styling, and believes great style is being confident with what you wear.