Previous Story
Next Story
AW21
The Style Guide to wear an Overshirt
Thursday 11 February 2021
By Brad Mclennan, Designer
Is it a jacket or a shirt?
A few years ago someone came up with the idea of the "Shacket": a men's hybrid piece that sits somewhere between a shirt and a jacket. Great idea, terrible name. Luckily, these days we call it the Overshirt.
Made from thicker fabric than your standard shirt, Overshirts are a warm, hardwearing design that most guys use as an alternative casual jacket.
We're big fans of the Overshirt at POLITIX, and we've included one in our brand new Autumn/Winter collection for 2021.
This is definitely the time of year for them. You need to know you'll be warm enough when it gets nippy on the streets, but cool enough to make a run for the office and not arrive as a sweaty, hot mess. Overshirts fill that transeasonal gap between too cold and too hot. They're the Goldilocks of outerwear.
The Ins and Outs of the Overshirt
Shacket, Overshirt, jacket-slash-shirt— whatever you want to call them. Overshirts are lighter than the average jacket, and they've got an interesting history.
The name says it all. These guys can be worn over a shirt when it's slightly cold, or under a coat when it's blowing a freezing gale. Overshirts are cut loose for this reason.
Like everything that stands the test of time, Overshirts were made out of necessity. They go all the way back to French railway workers in the late 1800s, who needed something light and sturdy, with a bit of warmth too.
Overshirts were originally a working-class style. The French name, bleu de travail, literally translates to 'blue work'. Pockets were added to make it easy to stash small devices and tools, without carrying extra bags.
You can also trace Overshirts back to African safari shirts and British soldiers in the 19th century. Legendary New York Times photographer Bill Cunningham made the Overshirt popular in the 1970s—he apparently picked one up for $20 bucks from a vintage store in Paris—and it's been a hardworking men's staple ever since.
Get the Right Fit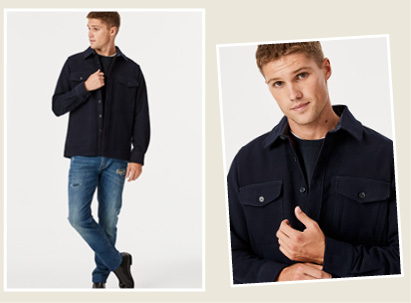 As an in-between piece, Overshirts are slightly heavier than a regular shirt, and they aren't meant to fit like one either. Getting this right takes some practice, so we've put together a handy fitting guide.
Collar: Remember, Overshirts don't go with ties. Wear them open or done-up, just don't wear them with a tie (for everyone's sake). The collar should fit snug, but not tight. If you can easily squeeze a finger in there, that should be perfect.
Sleeves: Sleeves are important. You want to make sure they're loose enough to leave room for a sweat, knit or tee underneath. When it comes to length, your sleeve should end at your wrist. And make sure there's nothing peeking out from the bottom layer.
Shoulders: Ideally, you want something approaching a blazer-fit: just between where your shoulder meets your arm, and elongated to allow room for more layers. Try your Overshirt with a knit underneath, to get a feel for size.
Chest: Again, you want enough wiggle room to fit a jumper underneath, or a jacket over the top. Overshirts should sit flat when buttoned all the way. You don't want them ballooning out like a garbage bag. If the buttons are creaking, you've gone one size too small.
Hem: The hem is important here. It should sit below your waist but above your hip—like a casual jacket. Any lower and it's moving too into shirting territory.
It's also good to note that Overshirts are suitable for guys of all builds, heights and sizes.
Choose the Right Fabric
It's important to make the right decision here. One false move and you could be sweating up a storm. Unlike their 19th century ancestors, Overshirts today are available in lots of different fabrics, from flannels to moleskin and even technical and manmade fibres. They're all pretty common.
At POLITIX, we try to stick to natural fibres, especially cotton and linen. They're lightweight, breathable and great for all seasons. Moleskins, brushed cotton and heavy linen blends are also worth considering.
When it comes to colour, dark tends to work best. A navy Overshirt with a knitted crew-neck sweater underneath is an ultra-sharp, smart-casual look. Finish the vibe with tailored pants and a solid leather Chelsea boot.
In autumn, think of those earthy reds and browns. They'll match well with blue denim or khaki chinos.
What to wear with an Overshirt
Before we talk about what to wear with an Overshirt, there's one more thing we need to mention. Pockets. Make sure your Overshirt has at least two chest pockets.
As a general rule, the fewer pockets, the cleaner and sharper the look. The more pockets, the more rugged and utilitarian. Two pockets: Friday date night. Four pockets: weekend with the guys. Make sense?
There are also some guidelines when it comes to layering. You don't want to look like an overstuffed turkey, so try and limit yourself to three layers max. The rule of thumb is: every layer should be able to be worn on its own.
Styling an Overshirt is a lot of fun, and there are plenty of great options.
For a basic utility look, match your Overshirt with a jogger chino and dark, crew-neck tee. Finish with some clean white sneakers.
For a casual weekend vibe, pair your Overshirt with a white or grey marle crew-neck, a pair of jeans and some Chukka boots. You're good for whatever the Sunday throws your way.
For a dressier vibe, go for a navy Overshirt paired with a white crew-neck tee, coloured chinos and brown loafers. That's a solid smart-casual outfit.
Brad Mclennan, Designer
Bradley Mclennan has been with POLITIX for 5 years as a designer, and has over 11 years' experience across womenswear, everyday brands and streetwear. He has always been fascinated with how a creative outlook affects people's lives. A great song. An inspired building. Brad love's to push the boundaries. He's the guy injecting colour and pushing the team to be bold. Bringing the whole thing together with an insane attention to detail.