Previous Story
Next Story
MEN'S FASHION
IT'S A COOL SUMMER:

5 TRENDS FOR SS19
Friday 7 November 2019
This summer, we're doing it stylish and easy with 5 fresh trends for SS19. Our high summer collection is here, and ready to stride with no sweat.
At the helm of this year's summer collection is POLITIX Head of Design, Paul Burden. Paul's infinite wealth of knowledge in men's style having worked 30 years in the fashion industry. He's tuned in and turned up to all the latest trends in Australia and around the world.
Here, he's sharing his insider knowledge on the 5 hottest (literally) fashion trends that'll dress you fresh for SS19. From finding the right shade of blue to turning the dial up on short sleeve shirts, read on.
01
A NATURAL HIGH
Shades of fawn and stone in tailoring make for the perfect summer suit. Whether it's the big day as the groom or the guest, or an outdoor formal event, natural colours in organic fabrics like cotton and linen blend fabrics let you be your coolest self.
But of course, we don't settle for basic. We've added key colours with subtle grid checks in blue and tan to amp things up. You can make your natural shades really pop with our bold SS19 accessories, or keep it effortlessly breezy with a comfy V-neck tee.
02
GOING PORTSIDE
It's the weekend and what better way to spend your time than battening down the hatches, shivering your timbers or just getting three sheets to the wind!
This SS19 trend is not about being the captain of the ship but being 'decked out' in the coolest gear on the harbor. Think reds, whites and cool shades of blue with a few highlight colours thrown in. In fact, the key to this look is nailing your blazer. Make it a statement with pinstripes, contrast piping, knit fabrics and of course, all out colour. If you love those endless holiday vibes, you just need to take a look inside our jackets: the bold printed linings give you a taste of the Amalfi Coast.
shop blazers
03
SHORT SLEEVE STATEMENT
The statement item for summer will be the short sleeve printed shirt. Loud, luxe and unafraid to stand out. You can wear them casually with shorts or styled up with one of our slim cut suits. The time is now to show off your inner movie star (think Brad Pitt in Once Upon a Time in Hollywood).
We've gone wild to cover this huge trend including leopards, palm trees, cranes, bold florals, Koi Carp fish and geo-floral prints! Tuck them in with a singlet or wear it open with a t-shirt. Whichever way, you'll be striding it with the same confidence and attitude as your movie heroes.
04
THE MODERN TUXEDO
The modern tuxedo has become THE staple item for every gent. For SS19, we've amped it up with camo textures, floral patterns and rich jewel tone colours on our velvet tux jackets so your event entrance will be a stand out.
You can wear our tuxedo jackets formally with a silk bow tie, cummerbund and high shine shoes, or a pair of black denim jeans. Another modern take for our SS19 collection was to take classic tuxedo fabrics and put them into contemporary casual shapes, like a bomber jacket. Doing this makes our casual jackets a bit more interesting, very easy to throw on, but still feel so luxurious. Looking good is about feeling good after all.
shop tuxedos
05
Lucky Blue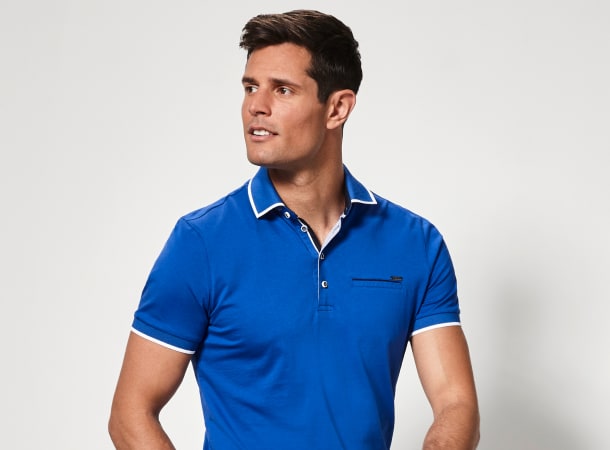 Cobalt blue is the freshest colour for the season across everything. From suits to casual jackets and blazers, tops to chinos. The key to pulling off this colour is to wear it loud and wear it proud.
For your bold cobalt pieces, dress it down with white shorts, a polo and driving shoes. Or you know what? Go all in and style it up with a formal shirt & tie.
Contributor Bio
PAUL BURDEN
Paul is our jedi of men's fashion and the Head of Design at POLITIX. He draws inspiration from movies and pop culture, always paying homage to classic menswear styling, and believes great style is being confident with what you wear.