Previous Story
Next Story
THE WINNING MOVES
Our Trackside

Style Guide
Friday 7 September 2019
Spring eventing is more than just getting together with good company but for the modern man to display their style and show off their sartorial muscles. Australia's POLITIX makes sure you're in the spotlight for all the right reasons. Dive into our updated guide for men's spring eventing fashion.
ASK THE EXPERT
In the world of fashion, few are as seasoned as Donny Galella. From hat-making to styling the stars, Donny offers a treasure trove of advice for the spring dressing. Remember, it's all in the details, and ensuring your look complements your personality.
01
Monochrome Suiting
The classic black and white remains a dominant theme for many race days. But there's room to play; grey checks and charcoal are welcome additions. Whether you're dressing for a formal get-together or another premier event, remember: A tonal floral tie or whisky-brown loafers can add flair to your monochrome ensemble.
02
The Main Event
Spring events demand a standout style statement. While blue suits remain a timeless choice, introducing playful ties, lapel pins, and pocket squares can elevate your look. For a subtle and refined look, pair a patterned blazer with chinos.
Bet on Blue
POP OF COLOUR
Spring is a season that invites a splash of boldness. Embrace bold blazers, coloured chinos, and shirts that focus on elevated details. Style with accessories that accentuate your existing outfit colours.
03
Neutral Tones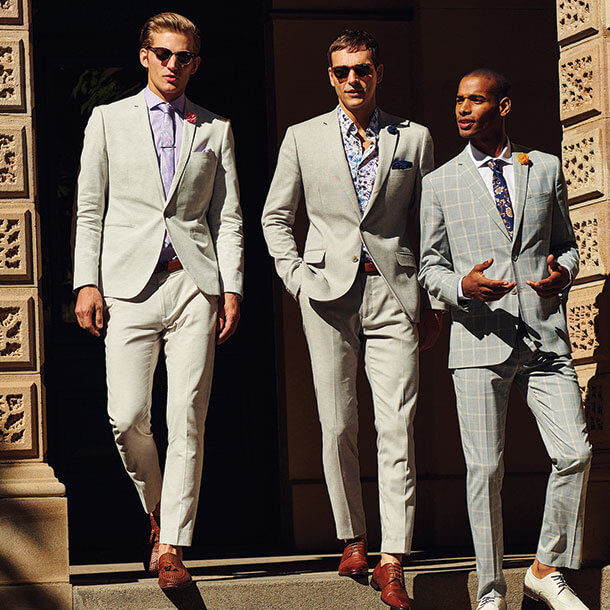 If going for vibrant colours isn't the look you're going for, you can opt for muted and flowery styles instead. Explore a palette of light greys, pastel pinks, and subtle floral patterns. A checked grey suit combined with a light pink shirt offers a balanced and refined look. And remember, suit separates are always an option.
04
Spring Suiting Separates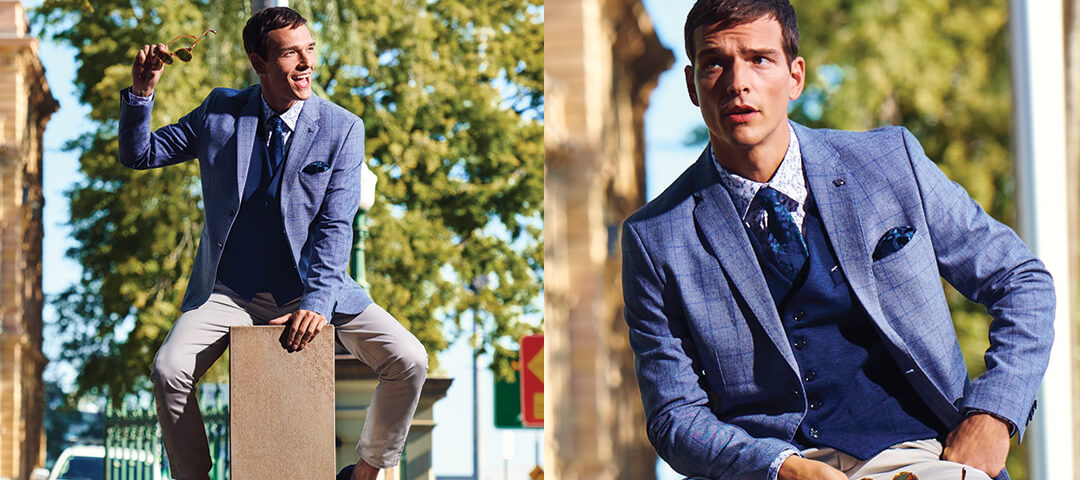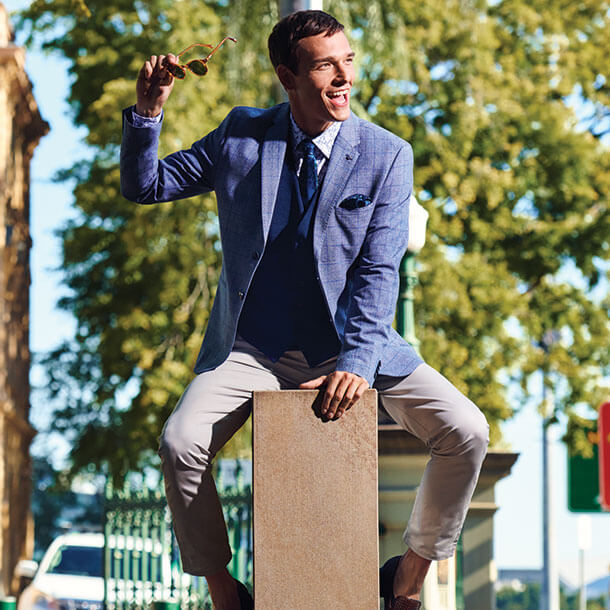 With your Spring calendar filling up, the charm of suit separates becomes evident. Double-breasted jackets paired with chinos and a sharp shirt can keep your look effortless and elegant. And never underestimate the impact of a well-chosen textured tie or pocket square.
05
Spring Shoes
No outfit is complete without the right footwear. From classic Oxfords to suede Derbies, the choices are endless. Lately, tassel loafers have been catching the attention, offering both style and comfort. Remember to always check event dress codes, but don't be afraid to express your personality through your shoes.
06
The Impact of Spring Weather on Style Choices
Spring can be unpredictable. Be ready for both the sun's warmth and sudden showers. Lightweight, breathable fabrics like linen and wool can keep you comfortable. Ensure you opt for spring suits that are adaptable to the changing climate.
07
Trending Accessories
2023/24 sees a resurgence of boutonnieres, tie clips, and sunglasses. Accessories can make or break an outfit, so choose pieces that complement rather than overpower your look.
FREQUENTLY ASKED QS
What's the top trend for men's spring fashion 2022?

2022 was dominated by monochrome with a pop of colour, especially in accessories.

Which shoes are recommended for the Spring events?

Oxfords, Derbies, and loafers, especially tassel loafers, are all excellent choices for spring events.

Are three-piece suits in trend for the Spring events?

While always a classic choice, many are now favouring suit separates for a relaxed yet stylish look.
Channel your bold, confident and creative side—embrace the season's fashion and let POLITIX be your guide to all things Spring event dressing.