Previous Story
Next Story
DENIM FOR MEN
Men's jeans: your ultimate denim guide
Friday, 22 January 2021
Boot cut? Straight cut? Body shape? This is everything you need to know about men's jeans.
It's hard to believe jeans have been a fashion staple since 1873, when Levi Strauss and Jacob Davis made the first ever pair of hard-wearing denim pants, with copper rivets on the pockets and flies. For nearly 150 years, jeans have been humanity's go-to casual trousers. They've morphed from working class staple to punk-rock statement to mainstream cultural icon. But choosing the right pair can still be a pain.
Do you go boot cut? Straight cut? Skinny or stretch slim? Distressed or classic? Blue, black, burgundy or something else altogether? Consider this guide your jeans encyclopedia. Everything you ever wanted to know—and some stuff you probably never wanted to know—about how to buy men's denim.
01

What are jeans?

Jeans are made from 'denim', which is technically a sort of cotton corduroy. Jeans and chinos are distant cousins, really, but denim is heavier and tougher, with a closer weave than regular cotton twill. The name comes from a fabric called Serge de Nîmes, originally made in Nîmes, France ('de Nîmes' eventually became 'denim'). It was around this time, in the 19th century, that weavers started adding indigo dye, which is where that classic 'denim blue' comes from. Of course, jeans have gone through dozens of tweaks, changes, styles and iterations over the last 150-odd years. Even Levi Strauss would have trouble navigating the average jeans catalogue.
02

Denim fit

Denim fit and cut are the fundamentals of men's jeans. It's why we have so many different styles and shapes available. Some of them are tied to specific eras (like '60s bell bottom jeans, which you should probably only wear on Halloween) while others have stood firm throughout the centuries (like the straight cut). What you're looking for here are jeans that feel comfortable and flatter your body shape. You can have the fanciest denim in the world, but if the fit isn't right, the whole thing's a disaster.
Straight leg jeans
These guys are like the OG jeans. Your dad probably has a few pairs in his wardrobe. They're cut straight (makes sense) with very little tapering from your hips down to your feet. A no nonsense, old-fashioned sort of jean. You can usually avoid straight cuts, unless you're tall and athletic—the big torso will offset the loose fabric. Even then, you're probably better off sticking with slim-stretch.
Skinny jeans
Men's skinny jeans (also known as 'skinny fit jeans') get a bad rap sometimes, but that's because people don't wear them properly. First, think about body shape. Skinny jeans look best on lithe, tall, skinny guys with smaller calves (hardcore cyclists, you might want to steer clear). Skinny jeans hug your figure all the way down, from hip to ankle, tapering into the skinniest possible silhouette.
Slim jeans
Men's slim jeans are like the Goldilocks of jeans, and most POLITIX styles are cut 'slim' for that reason. They're not too baggy and not too tight. They're tapered, but not restrictive. They're comfortable, but still stylish. And they tend to match well with almost anything—linen shirt, classic tee, winter coat, simple knit, anything. Aim for a snug fit around the waist with these: they'll stretch naturally over time.
Bootcut jeans
Bootcut jeans for men are pretty niche. 'Bootcut' basically refers to any jeans where the knee is cut more narrow than the leg. Some bootcut jeans aren't too extreme, and they can make a good weekend casual pair, but avoid the 'bellbottom' variety, which are straight out of Woodstock and should only be worn at Greenpeace marches. For practical purposes, stick to slim, skinny or straight cut.
03

Jeans and body type

The reason shopping for jeans can be a pain is that guys don't think much about body shape. And a good pair of jeans needs to work with your body, not against it. In laymen's terms, most guys fall into three body categories: ectomorph (thin guy with thin frame), mesomorph (average guy with average frame) and endomorph (large guy with large frame). Obviously everyone's body is slightly different, but keeping these three groups in mind can help. Here's the good news: there's a pair of jeans out there for every guy, no matter your body type.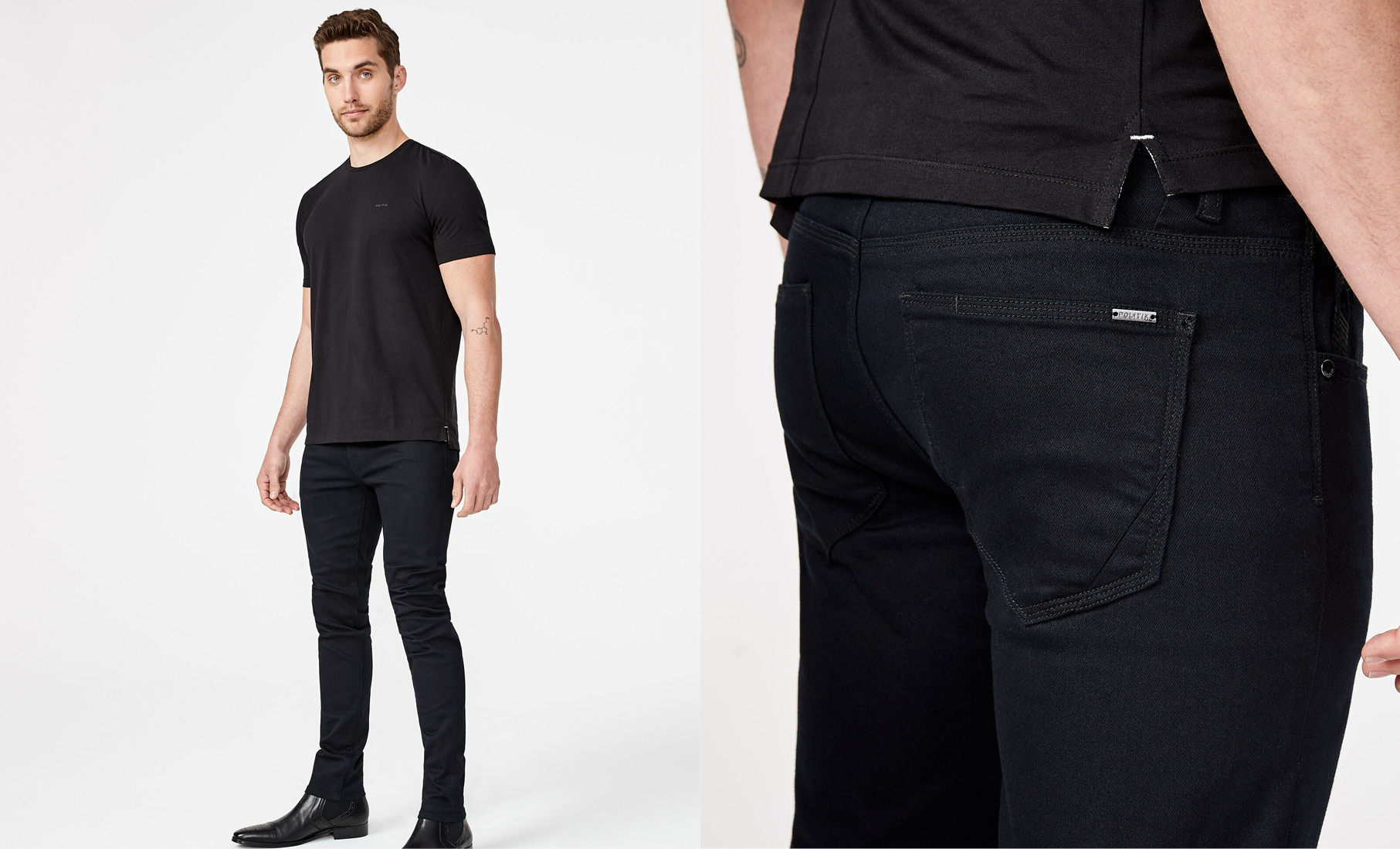 Ectomorph
If you're tall and skinny, without much muscle mass, a good pair of slim or straight cut jeans will suit you fine. You can opt for skinny jeans too, especially if you've got small calves, but just be aware that a tight fit will make you look smaller.
Mesomorph
For average guys, or anyone with a lean, muscular frame, slim-stretch is going to be your best friend. Straight cut jeans can also work, depending on the size of your torso. Remember: a more tapered cut will make you look slightly taller.
Endomorph
If you're tall and stocky, or you're carrying a lot of muscle, avoid low rise jeans, and stick to pants with a slightly wider leg. Straight cut is a great option here. For shorter guys, go for tapered, slim-stretch jeans—bootcut or straight cut might be a little unflattering.
04

What is a denim 'rise'?

The 'rise' refers to the distance from the top of your waistband to the bottom of your crotch, and it can make a big difference in your overall fit. For most guys, we recommend low rise (worn below your belly button) or mid-rise (just touching your belly button). That's going to give you the best blend of sharp style and dinner-table comfort. For slightly bigger guys, consider high-rise jeans, where the waistband sits just above your belly button. The only rise you really want to avoid is 'low crotch', which hangs low and sags around the hips and waist—this is your typical skater style, straight out of Clueless, and we don't recommend it for general wear. Drop-crotch trackpants can be acceptable; low crotch jeans not so much.
05

Which colour?

We could write an entire blog on jean colours alone, but to keep things simple, we're going to recommend four basic denim colours every guy should own—in order of importance. You don't have to necessarily run out and buy all four, but having a selection of jeans to choose from is pretty important (it'll also extend the life of your jeans). First, a dark wash indigo, which you can dress up or down, wear with t-shirts or blazers, loafers or sneakers. Next, a good casual light wash, which is perfect for weekend kick-around jeans, especially in spring or autumn. Black jeans are our third go-to: they're the classic 'date night' jeans, good for gigs and cocktail bars, and they look great with a simple bomber jacket. Lastly, grey jeans. These are versatile smart-casual jeans, which can also double as business pants (if your office dress code has been relaxed, post-COVID).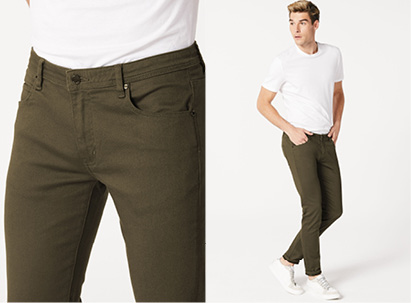 06

How to wash jeans

If there's one mistake we see all the time, it's guys not looking after their jeans. Denim is a hard-wearing fabric, and you should think of a good pair of jeans like an investment. With proper care, they can last for up to 10 years. To keep your jeans looking (and smelling) fresh, always read the care label on the inside of the waistband, and stick to the instructions. If your jeans are machine washable—like all our jeans at POLITIX—turn them inside out, and wash them in a cold wash with gentle detergent. Make sure to hang your jeans between uses, don't just stuff them in a drawer. And try and avoid washing them too much. Washing machines are pretty abrasive, and they can degrade the fabric over time. Keep your jeans fresh between washes with a simple anti-bacterial fabric spray.