Accessories for Men
Your Guide to Must-Have Men's Fashion Accessories
They say life is in the details. And that's particularly true when it comes to men's accessories. We've put together an easy accessories style guide to add that finishing touch to your outfit.
The hint of a dress watch beneath French cuffs. A silver tie bar or gold lapel pin. The way you match your tie and pocket square. But what are the most popular men's accessories? And how should you wear them? Is there such a thing as the 'wrong' belt? How do I get
my little watch thingy to change the date, not the time? You'll get answers to all these questions below (you're not alone — that date thing is surprisingly tricky). Consider this your men's fashion accessory bible.
Golden Rule
First things first. If you have to choose between too many accessories and too few, always lean towards the few. It's hard to ruin an outfit by not wearing a lapel pin, but clashing dozens of accessories and hats and belts and diamond-studded walking sticks is a
classic rookie mistake. You want to be the best dressed, not the most dressed. Take some advice from Coco Chanel: 'Before you leave the house, look in the mirror and take on thing off.' (NB: If you're wearing nothing but pants, ignore this instruction.)
01
Men's Ties
People have probably done their doctoral thesis on men's ties. We could go on for days about the difference between regular and skinny, silk and wool, sheen and texture, matching certain jackets and shirts and tie bars etc. Here are the men's tie basics you need to know.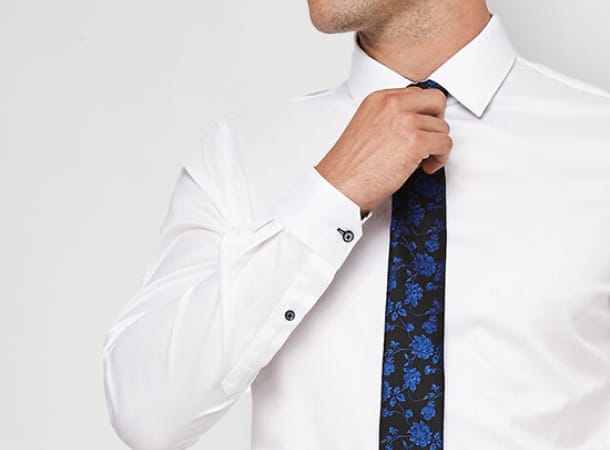 WHICH KNOT TO CHOOSE
For 90% of social occasions, the Half Windsor knot is totally fine, although it does depend on the width of your collar and the thickness of your tie. Full Windsor and Double Windsor knots are usually better for formal occasions: they're more symmetrical, slightly thicker and just look sharper on the shirt. Of course, not every guy knows how to tie a double Windsor, or wants to do it every morning while they're running for the train. The general rule is: wider shirt collars need wider knots, and vice versa.
HOW MANY TIES DO I NEED?
This will differ for every guy, but generally 6-8 ties of different materials, textures and styles will see you through the year. Of course, if you want a revolving tie rack with 74 different options (sorted numerically by blade width), go nuts.
TIE WIDTH
This is probably the biggest mistake guys make with ties: going skinny when they should go wide, or wide when they should go skinny. Thankfully, there's an easy way to get this right. Look to your blazer. Your tie width should always be proportionate to the width of your jacket's lapels. Thin lapels go with thin ties, and the other way around.
A tie can also be dressed down when paired with a utility jacket and a shirt. Or why not a leather jacket, denim and tie combo? Cool.
SILK TIES
When it comes to to ties, you get what you pay for. Cheaper cotton ties won't hold their shape for long (look for that classic 'bubbling', which usually means you're missing a bar tack). Silk ties are more durable, look better, and hold their shape wear after wear, providing you store them correctly. Look for three key features: the large end (blade), the thin end (tail) and the gusset, which is the bit joining the blade and tail together. All three pieces should be well stitched and in proportion.
KNITTED TIES
Soft knit ties are usually made from silk, wool or linen, They're the ultimate 'casual dapper' statement piece: you can use them to spruce a weekend outfit or knock the starch out of your corporate suit. Knitted ties usually have a narrow blade (2.5 inches is a good sweet spot) so stick to Half-Windsor or Four-In-Hand knots. It probably goes without saying, but don't wear a knitted tie to anything formal, like a job interview or black tie event.
02
Men's Belts
Don't underestimate the value of a men's belt. Done properly, belts aren't just things for keeping your pants up — they can bring your whole outfit together.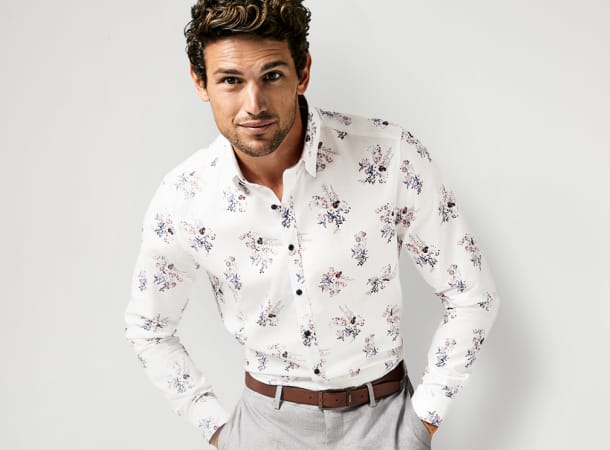 Think of a simple polo or tee tucked into chinos; without a belt, this Riviera look would be daggy or boring, but an eye-catching buckle ties the whole thing together (kind of literally). Here's what you need to know about men's belts.
BELT SIZE
A well-fitted belt should extend just past the first belt loop, but not the second one. The tip of your belt should sit somewhere between those first two loops. And do we event need to say this? Don't use
scissors or hole punches to 're-size' your belt. You'll only damage the leather. In terms of belt width between one and 1.5 inches is a nice sweet spot: not too skinny, but not superhero-wide either.
CHECK YOUR SHOES
This is another great tip. Your belt colour should always match your shoes. So if you've get a pair of brownn loafers that get dusted off for every wedding,
buy a brown belt to match. Also think about the buckle: a silver belt buckle will go better with silver cufflinks, tie bars and lapel pins. Likewise for gold.
MEN'S SUIT BELTS
Full grain leather is still the best material for men's dress belts. It ages well and won't stretch much. But your leather belt isn't just good for formal wear. Like any men's accessory, it's all how you style it. A casual leather belt can really break up separates, especially in soft suede or matte leather.
MEN'S CASUAL BELTS
Woven belts are just like woven ties: they can help smarten up a casual outfit, or give your summer suit a more laid-back vibe. Obviously these belts work well with chinos of all descriptions (just make sure the colours don't clash). They can also add some texture to mid-length shorts in summer. Just don't wear them with dress shirts, black tie or formal wear. Think linen suit, not penguin suit.
03
Bow Ties
A lot of guys avoid the bow tie. They're either scared of looking like a novelty clown, or they're intimidated by the knot itself. But bow ties don't have to be nerve-wracking: they're actually pretty common these days, especially when it comes to prep culture and Ivy League style.
SELF-TIE BOW TIES
There's just something so elegant and classy about a guy knowing how to tie his own bow tie. You can also get adjustable variants nowadays, which means you only need to tie the knot once (then adjust the length
via a small clip at the back). Of course, for evening wear or tuxedo shirt, where the entire bow tie is visible, you'll need a proper, old-school fixed length bow tie.
WHEN TO WEAR A BOW TIE
Weddings and black tie events are the obvious ones, but you can get away with a bow tie at the races. Just remember to keep it simple. You're already wearing something with more pizzazz than a regular tie, so
there's no need to go overboard when it comes to colour or pattern. Simple block colours or micro geos are all it takes. When you get some confidence, explore paisleys and florals too.
Types of Bow Tie
Butterfly Bow Tie
Also known as 'thistle', the butterfly is a probably the archetypal bow tie. It's particularly good for evening wear, featuring a smaller knot and big, flaring butterfly-style wings. A classic black tie look.
Asymmetrical Bow Tie
A more casual textured bow tie. Good for garden parties and summer polo matches. This bow tie sits slightly askew, with no symmetry on the left or right.
Diamond-Point Bow Tie
Note the diamond shapes on either side. This one is far less symmetrical than the classic butterfly, which gives it a ruffled, casual look. just pull slightly to adjust.
Batwing Bow Tie
Named for their bat-shaped silhouette. These bow ties tend to have larger knots and straight wings. If the big, flaring butterflies are freaking you out, this is a good low-key option.
04
Tie Clips
There are no hard and fast rules about when to tie clip. But there are rules about how to tie clip.
Some guys swear by them, while others reckon they're overkill (it's not like your tie is trying to escape from your suit). Tie clips come down to the preference of each individual guy. Try them on for size and see what you think. On the right outfit, they can look very schmick.
Wear to clip
The tie clip (or 'tie bar' as it's also known) should sit between the third and fourth button on your shirt. Around the chest region. If your clip is resting on your belly, you've gone way too low.
Fasten the placket
Make sure the tie clip slips inside your shirt's placket too. It's not there just to clip the two ends of your tie together. They need to be fastened to the shirt itself.
Note the width
Whatever you do, make sure your tie clip isn't wider than the tie. For most business ties, this won't be a problem, but if you're going skinny, just check before your buy.
05
Men's Pocket Squares
Does a pocket square have to match your tie? Are they an essential pieces of kit? Well, yes and no. A good pocket square can certainly elevate your suit, but they're not compulsory. This is another one of those wear-it-if-you-feel-it accessories.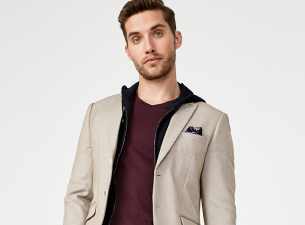 MATCHING YOUR SQUARE
Your pocket square just needs to complement your shirt and tie combination. That's it. They don't necessarily have to be the same colour. In fact, sometimes you can get better results by looking at the colour wheel and picking neighbouring shades (navy and violet, for instance).
COLOUR AND PATTERN
You could technically wear a plain white pocket square, but what's the point? Don't be afraid to experiment with florals, micro prints and different colours. Just look at your tie and find something in there: a texture, a certain shade, the hint of a pattern. Then pick your square to match.
CHAMBRAY
Honestly, if in doubt, go chambray. The chambray pocket square is one of the most versatile pieces in your cupboard. It looks good on navy blazers, charcoal suits and textured brown knits. And it's low-key. Silk pocket squares are on the way out: guys want a bit more warmth and texture these days.
HOW TO FOLD A POCKET SQUARE
Pocket squares don't need complicated origami. Simply fold your square in half, then half again. Now fold once more into vaguely rectangular 'pocket' shape. Fan the fabric out slightly, then tuck into your suit pocket. There should be about half an inch showing, no more, no less.
06
Cufflinks
Nothing catches the eye like a sharp pair of cufflinks. They work by fastening your French cuffs together, passing through a hole and locking with a small toggle. There are several types of cufflink, but bullet backs, studs and whale backs are going to be the most common.
In terms of styling tips, think less is more. The front face and cup member (the visible parts of the cufflink) should match your other accessories. Silver for silver and gold for gold. Avoid themed or novelty cufflinks if you can — they seem like a fun idea, but there are better ways to express personality.
07
Men's Gloves
Gloves are one accessory that often gets overlooked. Probably because it's not 1927 anymore. But there's still a time and place for a good pair of leather gloves, especially when the weather's cold. You don't need to go overboard here: one or two pairs is more than enough.
GLOVE FIT
Your gloves should be as snug as possible without straining the material. Tailors will measure your hand length (the distance from your middle finger to your wrist) and your hand width (the circumference of your hand around the knuckles, not including the thumb). Getting custom-made gloves will obviously guarantee a good fit, but most guys can find something comfortable off the rack.
DRESS GLOVES
Dress gloves are usually black or brown leather, depending on your outfit. Obviously black gloves go with black or a charcoal suit, while brown gloves work best with light grey or dark navy. Make sure your glove cuffs aren't too thick either: dress gloves need to be thin and hug the hand. The inner cuff shouldn't stick out beyond the wrist
CASUAL GLOVES
Woolly mitten-type gloves might be your first thought here, and those are definitely good for camping. But think about other options too. Burgundy or forest green leather gloves can be a nice smart-casual touch. So can soft suede under a sports jacket. Even woollen gloves can look smart, if the knit is tight enough. Just avoid anything too fuzzy or frizzy.
08
Men's Scarfs
Scarfs can be tricky. One wrong move and you look like a fighter pilot from the 1940s. There are dozens of types of scarf out there — bandana scarfs, head scarfs, square scarfs and so on — but for our purposes, a scarf is a rectangular piece of fabric, about 6 to 14 inches wide.
GETTING THE SIZE RIGHT
The size of your scarf really depends on your height. Larger men should look for scarfs around 70 inches long. Short guys, stick to something like 60 inches. If your scarf is dangling around your knees, you need something shorter.
How to wear it
If in doubt, simply drape the scarf around your neck and let the two ends hang under your overcoat. There's nothing wrong with a simple drape scarf. When you feel more comfortable, try the Once Around (simply wind the scarf once around your neck, allowing both ends to hang in front). Beyond that, it's up to you. The general rule is to keep it simple and keep it loose. If your scarf looks more like a necktie, it's probably too tight.
Fabric Choice
Again, there are hundreds of options here, but for something understated and elegant, stick to napped fabrics. This is mostly going to be wool or cashmere. A dark charcoal wool scarf with a tight weave can sit comfortably under your jacket or sports coat; you can wear it to the footy or the boardroom. Just avoid scarfs with beading, fringes or outlandish patterns. If you see zebras, run for the hills.
09
Men's Sunglasses
Every guy should have a good pair of sunnies. Preferably more than one pair.
The trick with men's sunglasses is figuring out the shape and size of your face. If the distance between your temples is 4.5 inches, you've got a 'narrow' face, and you should look for frames between 118mm and 128mm. 'Medium' faces are roughly 5.5 inches across,
and they need frames between 129mm and 139mm. 'Wide' faces are 6 inches from temple to temple, and they need frames between 140mm and 150mm. If you're trying on multiple sunnies and they just look... wrong, you're probably holding the wrong size.
Round Sunglasses
Think of these as the John Lennon look, ripped straight from the 1960s. The trick with round sunglasses (again) is fit. You want to make sure the arms of the frame rest comfortably behind your ears. Also keep the lens size in mind: smaller lenses will really crank the '60s retro vibe.
Vintage Sunglasses
'Vintage' sunglasses is a pretty broad term, but generally this refers to tortoise shell Wayfarers (the sort favoured by JFK), classic Persol 714s, or wire-framed aviator Ray-Bans. Again, think of your face shape here. Round faces should stick to square-ish frames. Aviators are going to look best on longer faces with high cheekbones.
Beach Sunglasses
When it comes to beach sunglassses, feel free to experiment with colour. Think tortoise shell frames and amber lenses, or maybe gold wire-frames with a classic dark tint. You want something that will complement light, summery colours: white, sky blue, pink and mint green.
Classic Sunglasses
Want one pair of sunnies that will take you pretty much anywhere? Look to the classics. In this case, that means Wayfarers, Club masters or pilot sunglasses (AKA aviators). These three styles are popular and versatile and you can't go too far wrong. Just remember: black frames will feel more slightly formal than tortoise shell.
A QUICK FACE SHAPE GUIDE
Round Face
Rounder frames will make a round face look even rounder (make sense). If you have wide cheeks and soft angles, think about rectangular or square shaped frames.
Oval Face
To be honest, an oval face is going to look good in pretty much everything, especially aviators. Just make sure the frames aren't wider than your face.
Square Face
Got a classic square jaw? You need to soften those lines with some round frames. Just watch our for smaller lenses: you need something full-width to offset that chin.
Heart Face
Heart-shaped faces have a broad forehead and tapered, narrow chin. You want something sharp and angular. Avoid tear-dropped aviators — they're the same shape as your head.