Previous Story
Next Story
Saturday 5 February
What To Wear This Valentine's Day
POLITIX X MARVIN OSIFO
Valentine's Day is around the corner, which means it's time to start planning. You want an outfit that channels your creativity, personality and self-expression (without going crazy OTT).
To help you out, we teamed up with men's fashion authority and Sydney style-ambassador, Marvin Osifo, to put together this season's top Valentine's Day looks for brunch, lunch and dinner dates.
Remember, a little confidence and creative styling goes a long way. And mind your table manners. Let's get cracking.
Rise and Shine
The Brunch Date
It might be brunch, but it's still Valentine's Day, so you need to step things up. That usually means a collar. Marvin has picked out two outfits for your smashed-avocado-and-coffee date.
The first is a classic floral Seaford short-sleeve shirt, made from 100% cotton and fitted just right. Pair that with some ecru leather trainers, cotton shorts or chinos, and you're all set.
If a collared shirt isn't really your vibe, Marvin recommends a linen blend casual jacket. Jeans and a plain tee isn't really V-Day appropriate, but adding a smart casual jacket can really elevate your brunch look.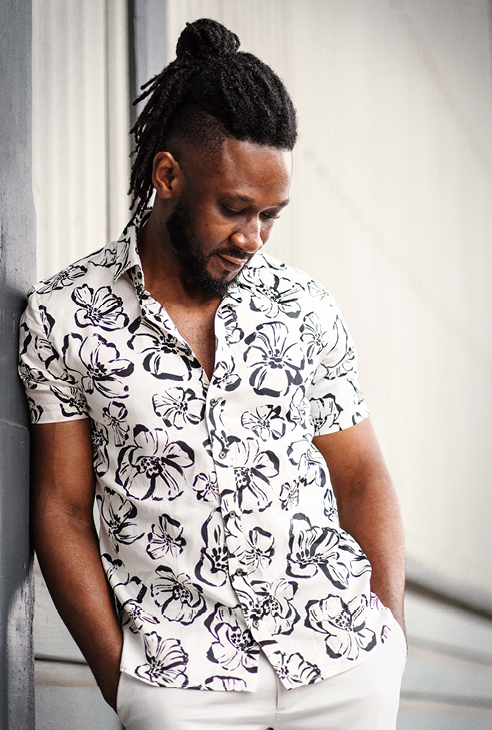 Day Time Adventure
The Lunch Date
With lunch, you can push things a little further.
Marvin recommends leather loafers and a slim-fit linen blend suit (trust us – blush pink is the essence of understated cool). Just match this guy with a crisp white shirt, tonal silk tie and some breezy tassel loafers. Don't forget the invisible ankle socks.
For more of a sartorial vibe, it's time to bust out the green windowpane check blazer with matching vest and our new front-pleated stone pants. Those pleats really sharpen the whole outfit, and forest green is definitely this season's big colour. It's the perfect way to express your individual style. Just try not to spill spaghetti on it…
After Five
The Dinner Date
Dinner dates are all about research, context and dress code, and they do require a bit of extra effort.
For an al fresco summer date, Marvin recommends going for an effortless, laid-back vibe. A jersey suit in camel, with a light windowpane check, strikes just the right note: modern and masculine with plenty of stretch. All it needs is an open-collar white shirt and some loafers to finish things off.
However, if your dinner menu is north of $200 bucks a head, you should really be thinking tuxedo. Marvin has paired this Benetutti jade velvet tux with a black bow tie and some Oxford dress shoes. This outfit is all about fit and detail – note the matching white pocket square and high-shine leather belt. Your date definitely will.