Previous Story
Next Story
Style Advice
What to wear to a high school formal - With Harvey Petito
Friday, 4th June 2021
By Andrew Vance, Creative
So your high school formal is coming up. Congrats! Get ready for questionable steak, maths teachers dancing, awkward limo conversations ("I can't believe we're in a limo!") and endless encores of Bon Jovi's Living On A Prayer (don't fight it—it's a classic). If you've already asked your date, the hard part's over. Now you just need to figure out what to wear. And this is where a lot of guys get things wrong.
Rented tuxedos, poorly fitted shirts, ties you will definitely regret in 10 years' time. There are plenty of school formal fashion mistakes out there.
Together with model and TikTok star Harvey Petito, we're going to break down some of the do's and don'ts of school formal fashion. What to wear, what not to wear, and how to have the best night ever.
01
The Ultimate Black Tie
Your fail-safe black tie combo:
Black velvet tux, black pants, patent leather shoes and a velvet bow-tie. Chuck on a paisley pocket square for a bit of personality. Job done. Just remember to get your pants hemmed at a tailor beforehand. You're looking for that slim-line taper, right down the calf. And don't leave it till the night before: allow about 3-5 days for alterations.
SHOP THE LOOK
02

Shaken Not Stirred

Olive green has become one of the year's hottest formalwear colours. For this one, you want our new-season olive tux jacket, with black slacks and a black bow-tie. When your jacket looks this good, you don't want to distract with too many patterns, colours or accessories. Keep things simple with monotone black and white. Definitely a good option if you like your formals shaken, not stirred.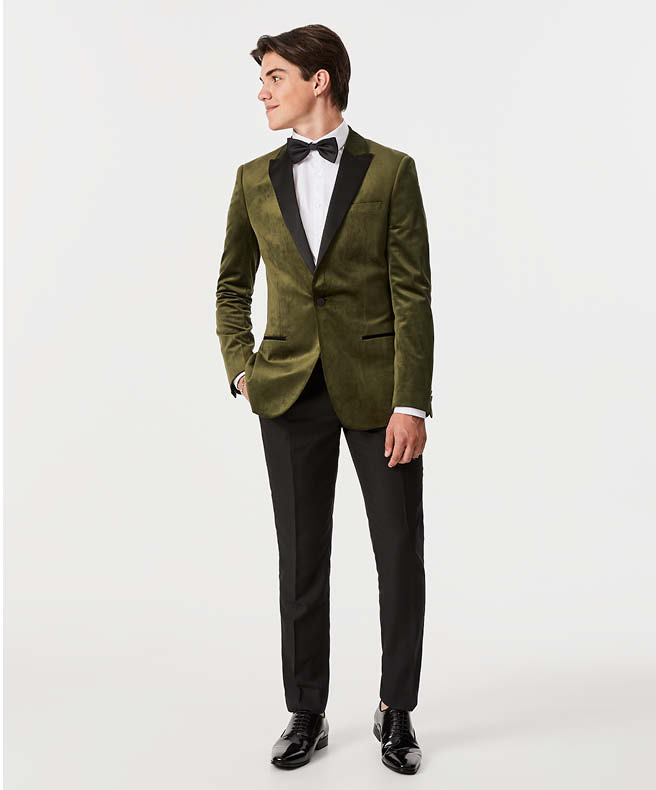 03

The Classic

When people think school formal tux, this is what they picture: a black shawl collar jacket, slim-fit white dress shirt, patent black shoes, black pants and a black belt. This jacket actually has a detachable collar, too, so even after the formal's been and gone, you can still get some mileage out of it. Nice bonus. This guy doesn't have too many bells and whistles, so the fit has to be spot-on.
04

Touch Of Class

This is kicking black tie up a notch. Match a Bordeaux velvet tux jacket with paisley bow-tie, black slacks and a woven tassel loafer (we know, tassels seem scary—just go with it). This is your James Bond approach to black tie. The sateen shawl collar, paisley pattern and fancy kicks will really help you stand out on the dancefloor. Just remember to wear invisible socks. You want to flash some ankle here.
05
New York After Dark
Don't feel like rocking the bowtie?
Youtube tutorials too hard? We feel you. Luckily, you've got some options. This outfit is still formalwear, but we've cranked the personality right up. The centrepiece is obviously that combination of olive green tux and black turtleneck sweater. It's low-key, sophisticated, with a little nod to 1970s New York style. Guaranteed crowd pleaser.
SHOP THE LOOK
06

The Charmer

For a slightly softer look, don't write-off the light grey suit. This is a good option for spring and summer formals, when black-on-black might look a bit heavy. Start with a three piece suit: that's a light grey jacket, with matching vest and pants. Then simply highlight with a dusty pastel shade—pink and grey have always been best mates. Find a pocket square to match and Rob's your father's brother.
07

The Black Panther

Presenting the ultimate black-on-black-on-black formal combo. Sticking to one shade like this can be risky, but here's how to do it right. Start with a black tux jacket with peak satin lapel. Throw on a black dress shirt and black pants. Then finish things off with a silver tie pin, white pocket square and a matte leather belt. The accessories help break things up (and stop you blending into the shadows like a ninja).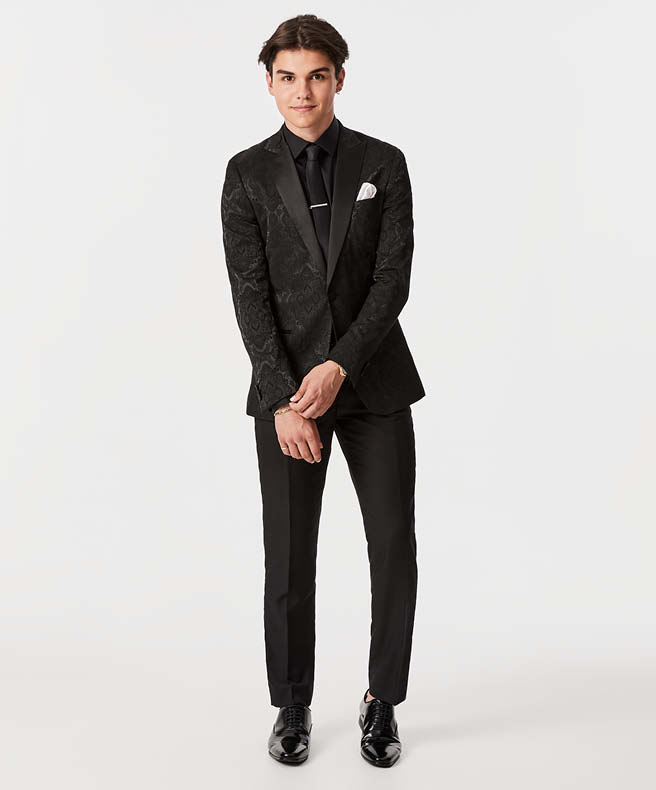 08

The Classic 3-Piece

Big props for any guy who rocks a three piece suit to their school formal. That classic mix of black jacket, black vest and white dress shirt will never go out of style. The trick with this guy is fit: your vest and jacket should be slim and tapered, hugging the torso. Anything boxy is going to look weird. Also, don't forget a pop of colour to offset the black. An emerald tie and pocket square should fit the bill nicely.
09

Limousine Ready

One of the biggest style tips you learn as you get older: when everyone zigs, you should zag. Most guys will rock up to the formal in a standard navy suit or black tie combo, so this outfit will immediately stand out from the pack. We've mixed a sharp grey suit jacket with black turtleneck sweater, black pants and patent leather shoes. Moody and monochrome, with clean, simple lines.
10
Slide Into My Dm's
A solid monochrome look.
If you're looking for a slim-line silhouette, but can't really face the whole bow-tie thing, try this guy on for size. All you need is a charcoal suit with strong shoulders, a black turtleneck, black lace-ups (Oxfords or Brogues are the way to go) and a patent leather belt. Those charcoal monotone vibes, combined with some slick tailoring, will look good pretty much anywhere. A solid low-key option.
SHOP THE LOOK
11

The GQ

We ripped this look straight out of magazine land, where chisel-faced dudes swan around on red carpets and everyone looks like an extra from Mad Men. We're calling it the GQ. For this guy, you'll need a slim-fit khaki suit, khaki pants, black turtleneck and some black tassel loafers. This is a killer formal outfit: not too stuffy, not too crazy, with a double dose of Smooth Operator.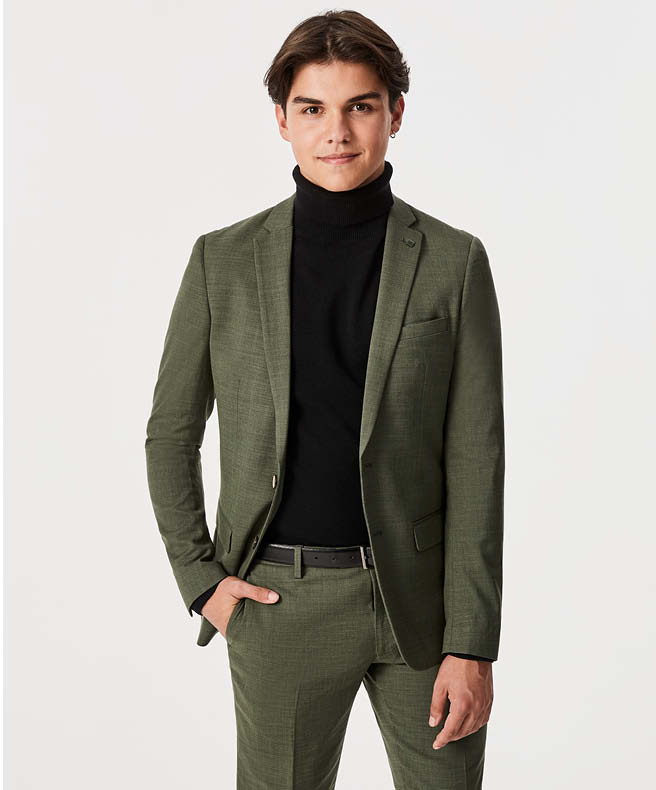 Need some high school formal inspo? Shop our collab with model and TikTok star Harvey Petito.
Andrew Vance, Creative
Andrew Vance has worked across the fashion and retail industry with some of Australia's biggest menswear brands. With 15 years' experience in visual communication, styling, retail, merchandising and graphic design, he's also honed his skills in creative direction and content creation. Andrew has built brand narratives across multiple touch-points, including PR, events, digital and social media. He believes in dressing with confidence and putting his best foot forward.