Previous Story
Next Story
Modern Tailoring
How to Suit Up
for the Modern Office
Our definitive guide on how to dress for the office: modern suits, crisp shirts and sharp coats – everything you need to win Monday to Friday style.
For men, office style is changing – fast. Casual Friday has yawned into the rest of the week. Tech executives are rocking t-shirts and slim sweatpants. Interns are arriving in tailored top coats and three-piece tailor made suits.
Modern tailoring is being worn everywhere from client meetings to weekend drinks. Mens suit styles are in flux. To some, the change is intimidating. We say it's your best new style opportunity. Here's the only suit guide you'll need.
Meet
Modern Tailoring
Our modern tailoring collection is designed to help you navigate – even dominate – modern office style. It's for men who want a sophisticated look, without screaming about it.
Of course, it's still important to have a go-to collection of tailored suits. But these days, you can demand a little more from your style. Our modern tailoring collection gives the suit a much-needed update, making it sharper, more versatile, and, happily, far more comfortable. You can see all of our suits online – think of us as your online tailor, without all the messy pins.
Here, you'll find suit separates that are cut lean and modern. Blazers that look just at home with denim as smart trousers.
These pieces are so sharp, you'll want to wear them all the way from Monday to weekend. (In fact, we encourage it.)
Meet the foundation of your new wardrobe. This is how to dress for the modern office: taking the slim fit suit and accessorizing it with everything from t-shirts to knits to denim, and beyond.
But first things first: you've got to nail the fit.
Make the cut
Here's something you've heard before: fit is everything.
Whether you're wearing a custom suit, an assortment of mens designer suits or something sharp off the rack, if the fit isn't right, nothing else will be.
Our modern tailoring suits are designed to fit like bespoke tailoring, wear comfortably from day to night, and mix-and-match handsomely with your smart casual wardrobe.
Best of all, there is a great range of suiting available to purchase as a separate, meaning you can pick the size of both your jacket and trousers, rather than buying a single size.
Here's how it fits.
1. The Shoulder

We've updated the traditional, square suit shoulder with a finer, more relaxed feel. The natural shoulder pad will still give you a sharp, tailored edge, but feel a little more modern.

2. The Jacket

The first thing you'll notice when you put on a modern tailoring jacket? It's light. We've kept the fusing minimal so it has a more natural flow and fit. In these suit jackets, you'll feel more mobile and nimble – but not at the expense of polish.

3. The Jacket Length

One of the biggest mistakes men make when they wear their tailored suit jacket with casual pants? The jacket is too damn long. We've shortened the length of our modern tailoring jackets, so they look just as sharp with chinos as they do a full suit.

4. The Button

The decision to go for a one or two-buttoned suit is important – and we've given you the choice. A single- buttoned suit is a more modern look, and its deeper v lengthens the torso, making it a perfect suit for men on all heights. A two-buttoned suit brings the attention up to the chest – ideal for broader, athletic men, or for those who want to draw less attention to their waist.

5. The Lapel

Here, you'll find slightly wider lapels – this is a power fit, not a skinny fit. Broader suit lapels make you look (and feel) broad. We've streamlined the finish, too. The overall effect? Distinctly modern style.

6. The Waist

We've given the modern tailoring suit jacket a straighter cut that plays nicely with its shorter length. Rather than being super-tapered, it sits sharp and comfortable – and the double vent on the back means it will stay that way. Bonus: a double vent means more ventilation on warm days – exactly what we look for in summer suits.

7. The Wrist

Most of our modern tailoring jackets break tradition by having a single button on the sleeve cuff – keeping things clean and sophisticated.

8. The Stretch

Every suit jacket and tailored pant in our collection has built-in stretch. Translation? Jump on a bike. Walk to a meeting. Bend, stretch, and move as you please: the modern tailoring line-up is designed to keep up with your lifestyle.

9. The Trouser

Pleats? Nope. Our flat front suit pants are smarter, sharper and more polished, thanks to fewer distractions.

10. The Break

Look in any stylish city centre around the world, and you'll see men of style rocking a shorter suit trouser. Why? It's modern, it's streamlined and, most importantly, it shows off your shoes. These suit pants will pair perfectly with brogues, oxfords, sneakers, and everything in between.
Start smart
When it comes time for a man to buy a suit, he needs to think about things a little. Is this suit for a wedding? Is it an office suit? A date night suit?
Our vote: buy a tailored suit that can do all of the above, and more. Even better, our modern tailoring collection has been designed to fit like a tailor made suit, right off the rack.
When you're looking to enter the brave, stylish new world of modern office style, the smartest move is to pick a few wildly versatile colours, then mix and match.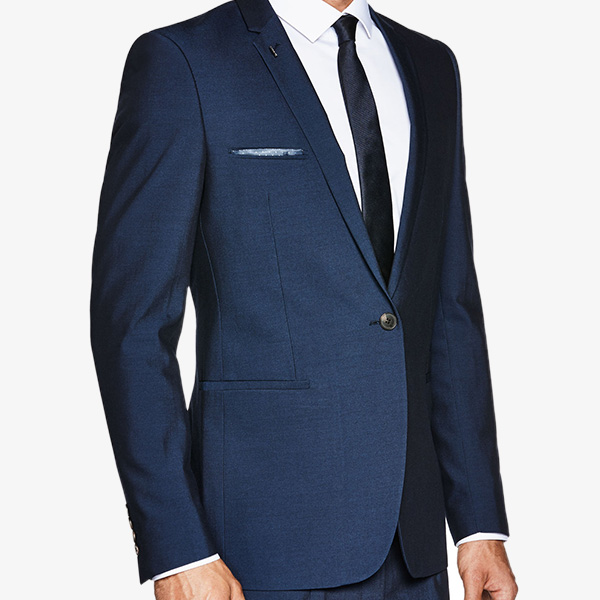 First up: navy. Forget the inky navy shades of your father's custom suits. Brighter blues are the new navy suit. Take a moment to consider your complexion – your skin tone and hair colour – and choose your shade of blue suit.
And listen, there's a reason why navy blues are the cornerstone of every good collection of tailored suits. The blue suit has an built-in advantage: it helps bring out the tones of everything else you're wearing, helping brown leather pop and crisp white shirts take charge. (That's why navy blues tend to make brilliant wedding suits.)
Shop Navy Suits
Next up, opt for a charcoal or grey suit. It's a must-have option for day to night style, and a staple of men's suiting since, well, forever.
Deeper greys will feel polished and formal, while lighter grey suits are a little more modern, and perfectly complement men with a dark complexion. Our advice: a grey suit jacket looks especially punchy when pared back with denim or chinos.
Shop Grey Suits
Mix, match and layer
So, you've got your tailored suits, and you've nailed the fit. Nice.
Next, it's time to think about how to get the most out of your new sartorial collection. A stylish assortment of tees, chinos, denim, shirts and shoes will ensure you can embrace your style, all week round.
First things first: you're going to want a crisp white shirt – something that can carry you from boardroom to bar, without breaking a sweat.
Our favourite white shirts of the moment have a hint of texture to elevate your style.
Shop White Shirts
Of course, sometimes white can be a little too minimalist.
Our collection of patterned shirts is designed to give a little lift to whatever you're wearing. The key to pulling them off? Skip the tie, and keep the rest of your accessories simple. No, the winter weather doesn't dip dramatically in Australia – but you're still going to want a layer for single-digit mornings. Our modern tailoring knits are textural, lightweight and perfect for layering.
Shop Floral Shirts
Shop Knitwear
Our favourite look right now? Smart separates.
It's the way to maximise all of your suit styles. The mood of the moment is taking a tailored suit jacket and pairing it with sharp casual trousers. It's easier than you might think. Your favourite chinos? Sure. Your prized denim? Even better. When you balance the smart with the casual, good things happen to your style.
Shop Chinos
Shop Jeans
Every now and then, consider it your duty to mix-up your suiting with some luxe sneakers, or polished loafers.
A tailored suit jacket, smart denim and box-fresh white sneakers? Your new Friday uniform.
Shop Footwear
Pull it together
Look one
The All Rounder
This look is your perfect stepping stone between conservative office suits and newer, sharper workweek style.
You'll look polished whether you wear a head-to-toe tailored suit, or opt to break things up into separates (we recommend starting with chinos).
Look two
Boardroom to Bar
A crisp white shirt, navy suit pants and a navy tie? Classic.
But, thanks to the updated fit, you're instantly modern. Add a jacket for the 9-5, then ditch it for date night. And if the weather's a little warm? Skip the socks and show-off some high-polish formal shoes.
Look three
Seal The Deal
Of course, business needs to get done. For those days, look for an extra level of polish.
A subdued grey modern tailoring suit is an easy way to command the room. Add in our new take on the vest, and you've got a 3 piece suit like no other. Bonus: it will look just as sharp when you're celebrating the deal with a drink.