Previous Story
Next Story
S/S 2021
Summer Fashion for Men - 2021/ 2021 Trends
Thursday 31 December 2020
Summer Essentials For Men: Floral Shirts, Summer Blazers and Chino Shorts
Can you feel that, Australia? That's summer! Roll on the board shorts, barbecues and beach bars. Now, we know what you're thinking… How can you dress well when first and foremost you have to dress to stay comfortable in the heat?
As always, we've got you covered. The secret, as with most of men's style, is all in the details. The following men's summer essentials can be mixed and matched to create endless beach-vibing, cocktail-sipping, here-comes-the-sun combinations. Brought to you with a double dose of Vitamin D.
PERFECT SUMMER POLO SHIRT
Let's face it, you're no stranger to the polo shirt. The reality is though, it can be one of the sharpest and most versatile products in your wardrobe if you focus on the right style and fit.
Our polos work well with a pair of summer chino shorts, obviously, but their slim cut is the perfect partner with our half-lined summer blazers and suit jackets, perfect for a day-to-night look.
A CHEEKY CHINO SHORT (OR TWO)
If you're only going to buy one item on this list, it's got to be a couple of pairs of chino shorts. So many gents are still stuck wearing baggy, long cargo shorts and it's the single biggest thing holding them back with their smart summer style.
Our chino shorts are made with BCI cotton, which supports more sustainable cotton farming, meaning you're not only going to be left looking good but also feeling good. Want to hear the best part? All of our chino shorts come with a free casual belt.
MEN'S SUMMER SHOES - THE LOAFER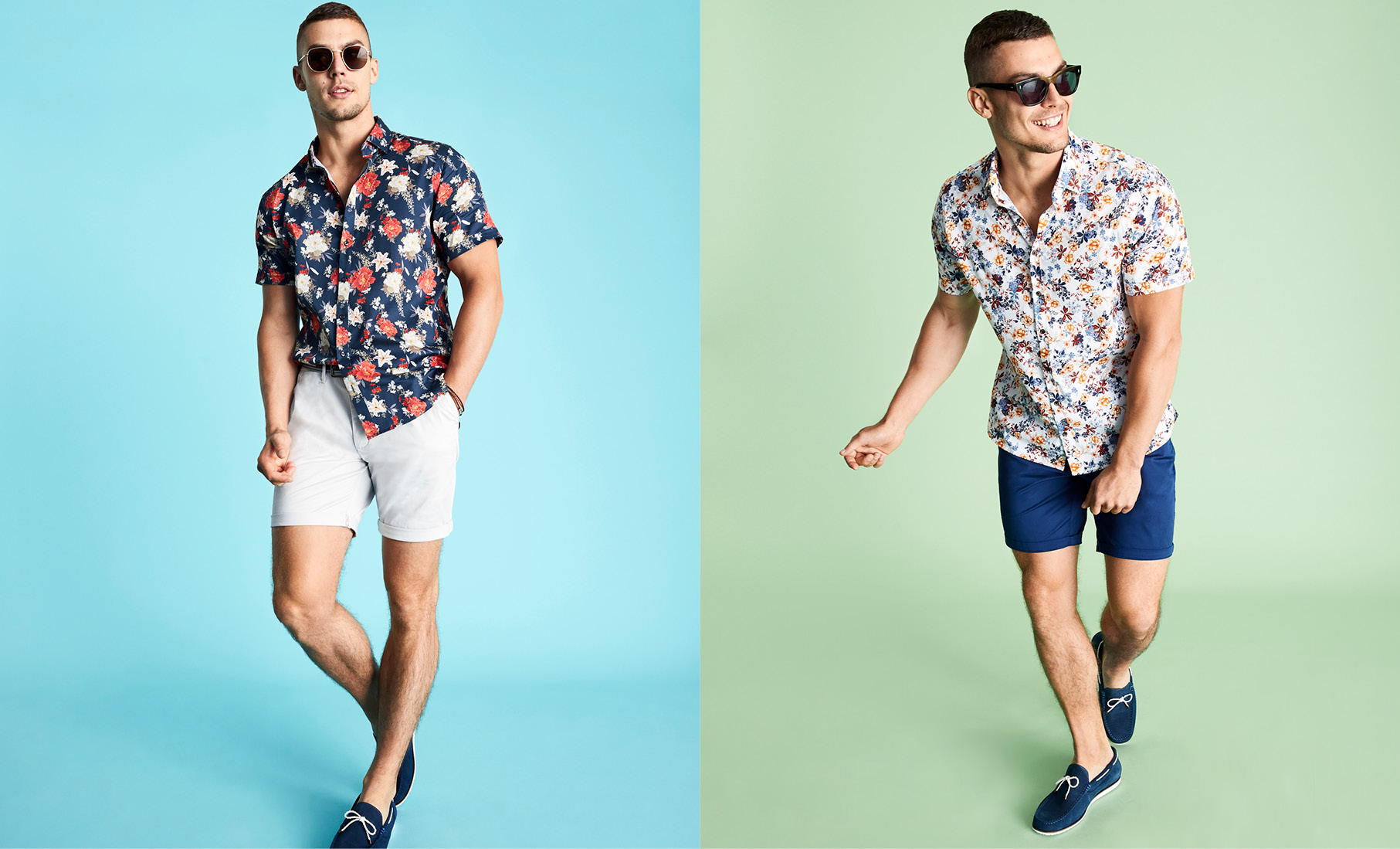 Can't wear boots because you're wearing shorts. Can't wear sneakers because wherever you're going needs to be a tad dressier than that. What's a guy to do? The answer comes in the form of a loafer - an absolute summer essential.
Our loafers come in a range of colours (including white, navy and tan) and materials (including leather and flyknit), making them the perfect addition to tackle any casual or smart summer occasion. One last thing, make sure you wear no-show socks!
MEN'S SUMMER JACKETS- THE BOLD BLAZER
The beauty of a men's summer blazer is that you can take it beyond formal settings. Summer is about dressing things down for casual occasions, giving you a look that is still sharp and clean, but has a more relaxed, fashionable feel.
Whether you smarten it up with a shirt or tone it down with a tee, it's important to not be afraid to get bold and creative with different colours, fabrics and patterns, which we have plenty of! Team a blazer up with a polo, pair of chino shorts and some loafers for a winning combo.
MEN'S SUMMER ACCESSORIES 2021
Men's summer accessories are easy to get wrong but, when you get them right, they can elevate an outfit from zero to hero. However, you don't want to over do it - it's all about being selective.
A classic panama hat (we've got a few to choose from) is the perfect addition to any summer outfit - it not only keeps you sun-safe but also looking sun-smart. Finish off your look and punch up your style with one (or a few) of our wristwear jewelry - a classy finishing touch.