Previous Story
Next Story
S/S 2021
How To Wear The Knitted Polo Shirt
Friday 30 October 2020
By Brad Mclennan, Designer
Knitted Polos: a man's spring summer essential
This summer, relaxed style is something we are all searching for. Easy looks that can ooze sophistication. We've taken the fuss out of summer dressing by introducing Knitted polos to the range that will take you from a dial-in meeting to outdoor dining with ease. Made from cotton in a tightly knitted texture, the Wanakas polo is the perfect mix of classic shape with current style.
The polo is an iconic style that can replace the need for the dress shirt - but that doesn't mean you only belong in a bowls club or on the green.
We've updated this classic polo style in an array of fabrics, colours and patterns to create summer looks that will make you look sharp while keeping comfortable. Available in the three colours - Navy, Sky and Grey Marle. This short-sleeve knitted polo has added texture, striped tipping details on the neck and a front placket enough to give you sartorial cool on its own. Pair it with a short and trainer and step it up with a lightweight blazer.
Knitted Polos - Know the Difference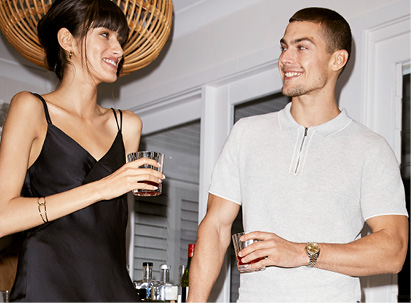 It's not just about the fabric for a knitted polo shirt that makes the difference, it's the way it sits on the body. The extra texture and weave of a knit polo automatically makes it feel more substantial while keeping you cool in the warmer months. The structure of the Wanaka Knitted polo means you're going to look the part while only having to think of one thing to wear - it's effortless. The added detail of a zip up front, adds metal hardware detailing that looks just as good undone as it is done up.
If you have tried a knitted polo before, just make sure to stick to natural fibres like cotton, as it will keep you cool, breathe easily and feel light on the skin. You're upping the style game with a knitted polo these days as they automatically have a feel of luxe about them. All-over neutrals work well with this polo as the texture acts as a contrast, or work with a tonal palette of navy and blues for a strong sophisticated stance on summer dressing.
The Right Fit - Knitted Polos and Blazers
Our polos are cut slim and work perfectly with our range of half-lined summer blazers and suit jackets. You can pair the Wanaka polo with a suit jacket and matching pants,
which plays down a formal look for nights, or team it with a stretch blazer and white cotton chino for weekend wear, for all those days-off in the sun.
The Dos and Don'ts of Polo Etiquette
Our hot tips for looking right on point this summer is to make sure you are wearing the right size. Polo Shirts should never be skin tight - they should drape nicely over the shoulder and body (you don't want to look like you spend too much time staring in the mirror) Whatever you do, make sure you stay away from tucking the polo shirt all the way in, a french tuck on the side is okay, but you risk looking like a preppy school boy if you do the full tuck. Remember, effortless cool. Steer clear of big bold logos, it's all about upping the top game, not plastering a name on your chest.
Never think it's a good idea to go for a loose regular fit jean or drop crotch jogger with a polo - it's the wrong era for that. It can stay in the 90s.
Keep floral and geo patterns for daywear and move into the knitted polo or plain colour blocked polos for night. White sneakers, sandals and loafers are a sure winner in the style stakes matched back with a polo - make sure you steer clear of boots and dress shoes, it kills the classic vibe you've been working so hard on. And one tip we were taught - popping your collar can stay with Usher. Just don't.
How to wear your Polo Shirt
If the coast isn't calling your name and a long lunch in the sun does, you'll want to make sure you have the Wanaka Knitted polo in sky, paired with a navy blazer and white chino. You'll be completely dressed but won't feel one part of the summer sun thanks to the breathability of this guy.
Next up is the easiest of all looks, and it's as simple as throwing on a cotton jersey polo with denim. You want to make sure you're looking for a plain polo with added details if you go for a button down, and our Lorry polo is perfect for this. With extra textured design (designed in-house by us) in the rib and stripe detailing on the
tipping, it lifts what could just be a boring plain polo into a detailed top that you can throw on with a pair of light-washed denim jeans (keyword light-washed) and you're good to go.
Lastly, in the most classic of polo shirt looks is pairing it with a chino. It's an iconic look that screams sophistication. Our hot tip is to make sure you are contrasting the colours from top to bottom, and for summer that means darker on top and lighter on the bottom. You need to also invest in making sure your chino is the right length.
Brad Mclennan, Designer
Bradley Mclennan has been with POLITIX for 5 years as a designer, and has over 11 years' experience across womenswear, everyday brands and streetwear. He has always been fascinated with how a creative outlook affects people's lives. A great song. An inspired building. Brad love's to push the boundaries. He's the guy injecting colour and pushing the team to be bold. Bringing the whole thing together with an insane attention to detail.