Previous Story
Next Story
STYLE ADVICE
The men's ultimate knitwear guide
Wednesday 13 July 2022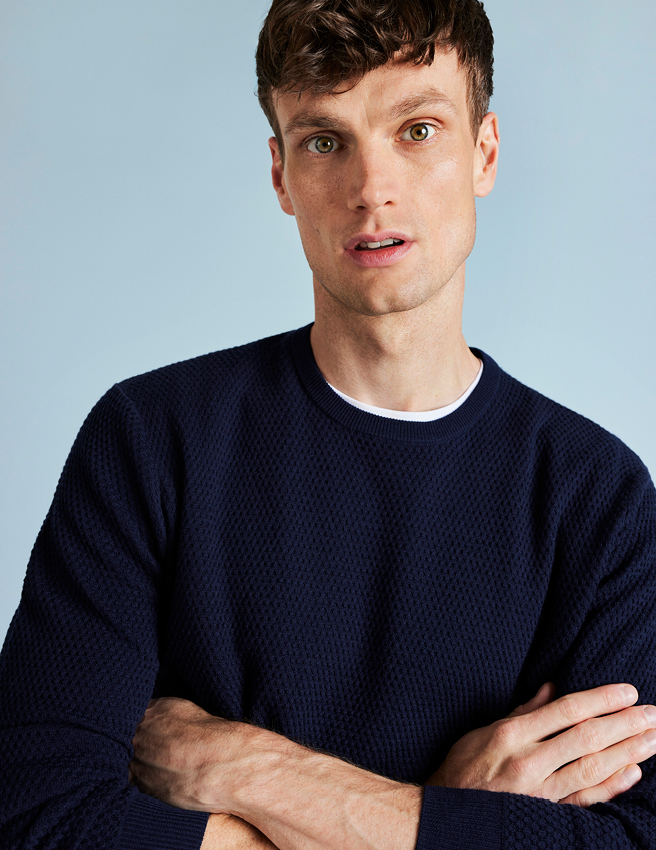 When it comes to layering, you can't beat a good piece of knitwear. It's perfect for weather conditions where it's too hot for an overcoat, and too cold for a shirt. Knitwear fits snugly under a jacket or cosily over a tee, and its comfortable weave lets you stay warm and slink around with ease.

This is your ultimate guide to knitwear – styling, textures, fabrics and more included. Ready? Let's dive in.
01
Knitwear for every occasion
While knitwear is incredibly versatile, certain styles mesh better with particular events. Here's why knitwear should claim a spot (or more) in your wardrobe, and how you can style it for every occasion in the book.
Personalise your party outfit with knitwear
A party may not be the first setting that comes to mind when thinking about knitwear, but clever pairing choices will easily help you pull off a stylish and fun look.

Our Dezra Roll Neck can be worn all year round, but excels in the colder months. It exudes vintage cool through its timeless design and can function as a statement or layering piece. The turtleneck design has seen some recent action in Hollywood too – check out 2021's House of Gucci and the 2015 James Bond film, Spectre.

For a casual gathering, try pairing the Dezra Roll Neck with a suede jacket and dark denim. If you're heading to a work party, dress it up with a tailored jacket or a coat, followed by chinos and Chelsea boots.

Our Hayston Cotton Knit combines the warmth of knitwear with the sharp, clean lines of a zip polo. It features a mid-weight, Milano stitch knit which lends to its silky-smooth hand feel, plus a self-stitched hem and wide collar, producing a suave, stylish look.

The Hayston is the perfect piece for smart-casual outings; simply wear it with dress chinos or tailored pants, then add a pair of clean sneakers or boots to finish things off.
Lounge around effortlessly with casual knitwear
If you're chasing a relaxed, effortless look, rocking a knitwear top will tick all the boxes and then some. Thanks to its breathable and comfortable fabric, you'll find it hard to reach for anything else when you're heading out of the house.

Knitwear should never be boring – add some texture and intrigue to your outfit with our sand-coloured Bora knit. It's made from our signature in-house designed cable knit and keeps you warm while adding a degree of elegance to your everyday look. The off-white tones of the Bora knit mesh well with both light and dark denim – just add sneakers or boots to finish your look.


If you're leaning towards a smoother knit, you can't go wrong with our Debonair or Allenby crew knits. You won't run short on trans-seasonal colour options here; the Debonair knit comes in grey, khaki and a two-toned plum marle, while you can pick from shades of khaki, black and a two-toned navy/white for the Allenby.

Both crew knits are made from 100% cotton and feature intricate details; a small textured stitch on the front body and sleeves for the Debonair, and a special diamond knit on the Allenby, as well as a unique stripe design on the hem and sleeve cuffs.

When you're putting together your outfit, you have a tonne of colour options available to express your style. Both the Debonair and Allenby excel at layering, so pick and mix from whatever you already have in your wardrobe to suit the occasion.
Mix up your business outfits with knitwear
Rocking knitwear to the office helps you make a fashion statement without even trying. Both our Debron and Stinton knits accommodate collared shirts and ties easily, making them the perfect choice for business-casual workwear.

Our Debron knit features a half-zip collar with raglan sleeves with a chunky rib knit stitch. It's also available in sand and navy, so you've got plenty of pairing options at your disposal. Dress it up with a collared shirt and tie, or keep it casual with a tee, jeans and a coat.

If you prefer to do away with the collar, try our Stinton cotton knit. It has a V-neckline – perfect to show off your tie – and is crafted from a fine 100% cotton knit. Add a pair of dark trousers and leather shoes, and you're off to the races.
Rocking knitwear to the beach
Knitwear's relaxed feel and comfortable fit make it a great option for those cool beach nights. Think watching the sun go down, drink in hand, while you're warm and toasty in a comfy knit.

Take our Wessley knit hoodie, for example. It's available in mid grey and black – both fantastic athleisure shades – tonal options for rocking those winter beachside walks. Pair with black sweatpants or jersey pants and a pair of trainers to finish your look.
02

Why knitwear goes hand in hand with winter

Knitwear is the undisputed king of layering thanks to its fabric composition. Full cotton knit provides warmth yet remains breathable, which makes layering a breeze for winter and beyond. Tuck it inside a coat for the colder months, or rock it as your outer layer when the weather starts warming up.

Knits are readily available in a variety of cotton thicknesses. Lighter knits are great for layering and versatility, perfect for unpredictable, trans-seasonal weather – they also sit smoothly over shirts and under jackets. Heavier knits are tailored more towards the winter months, where a more substantial fabric provides the warmth and comfort you need for a comfy night out (or in).
03

Not all knitwear fabrics are made equal

When shopping for knitwear, it's important to distinguish between the different fabrics available. Each type of fabric has its own strengths and suits some occasions better than others.
Wool
Wool has a tonne of great properties; it's moisture-wicking, hypoallergenic, breathable and durable. It's an excellent choice for warmer weather when the sun's out in full.
Jersey
Jersey is a single-knit cotton fabric best known for its comfort. Stretch and softness are its best qualities, reflected in our Debonair, Allenby and Stinton knits. These pair effortlessly with chinos and a collared shirt for a laid-back take on business casual.
Rib
Ribbed fabrics combine form and function – their unique pattern helps to regulate your temperature, so it's perfect for guys on the go. Ribbed knits are also stretchy and comfortable, so they're a great option to mix and match your other wardrobe pieces with.
Cotton
Cotton provides comfort and warmth and is easy to look after, making it an excellent choice for trans-seasonal styling. You can't go wrong with a classic cotton crew knit – it blends easily into both casual and semi-formal outfits. Politix is also part of the Better Cotton Initiative, making global cotton production better for the people who produce it, the environment it grows in, and the sector's future.
By now, you know how versatile knitwear can be. They're comfortable and warm, and most importantly, they look great. Whether you're heading to the office, to a party or simply to the shops, you can't beat a soft, comfy piece of knit. Do yourself a favour and try some on – we guarantee you won't regret it.