Previous Story
Next Story
S/S 2021
Men's Suit Separates: A Modern Men's Guide to Mix & Match
Friday 16 October 2020
By Paul Burden, Head of Design
How To Wear Suit Separates - A Modern Men's Guide
It's always a difficult decision choosing that killer suit that will take you through the summer months, and all of those glamorous events you're now getting invited to. So here at POLITIX we've tried to make it easy for you with our extensive range of Mix & Match options that will ensure you look cool all summer, no matter what the occasion.
Versatility is key and with our suit separates there's always the possibility of dressing up or down, depending on how you're feeling that day – a simple tee and sneaker or fully suited and booted!
Here at POLITIX, we believe that fashion is what you buy but style is what you do with it.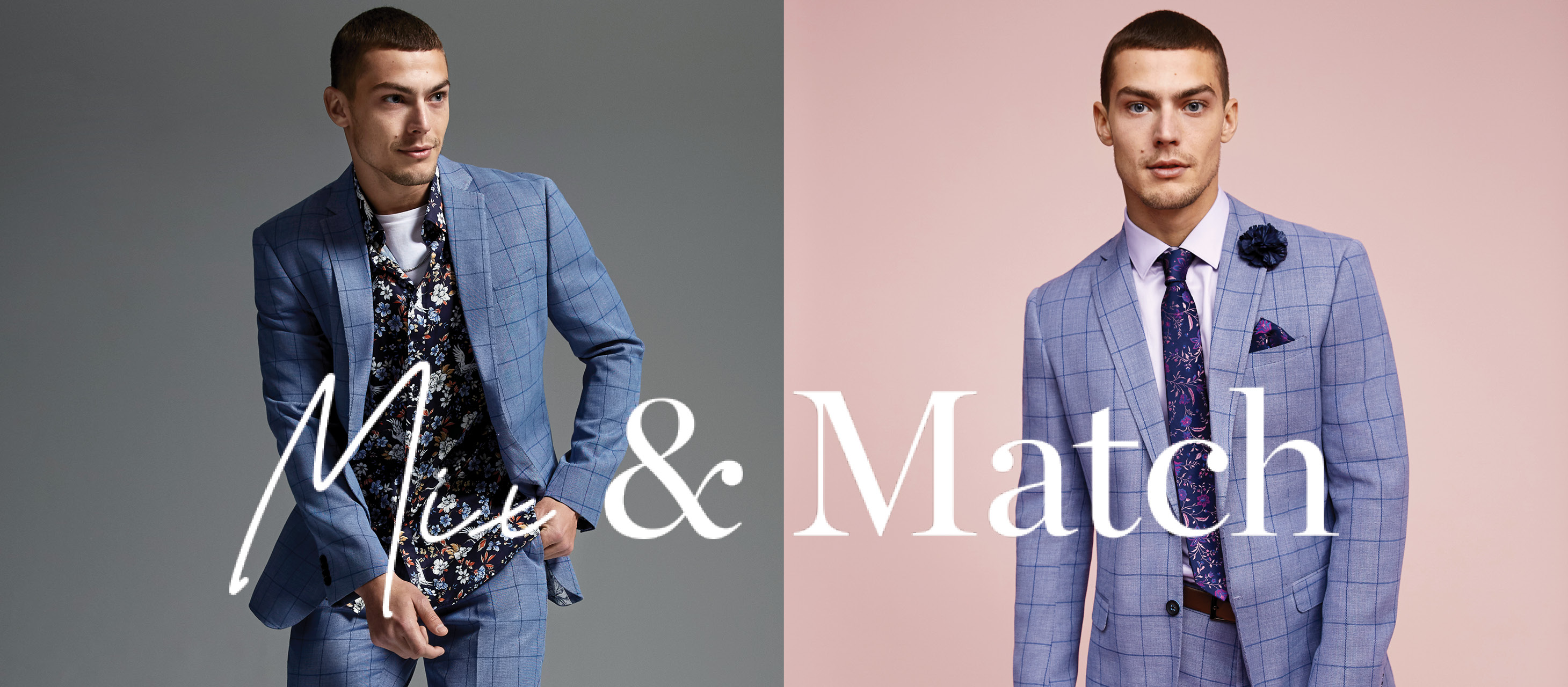 Pink isn't just a colour, it's an attitude
They say real men wear pink!
We believe it's a colour for everyone and, this summer, we bring you an array of shades that will be fit for any occasion. Our tailored highlights include the ANDREWS and ADELAIDE suit separate and KENDRELL velvet tuxedo, both limited edition so you'll need to move fast! Our ANDREWS jacket and ADELAIDE pant look relaxed when paired with the LEVIN knitted crew in pink and our fly knit sneaker TOSCELLA but can be dressed up just as easily with a shirt, tie and loafer for a head-turning ensemble for any special event.
The single-button fasten and slim lapel make this muted pink jacket a real summer statement that ticks all the boxes for looking 'perfect in pink.'
And who said velvet was for black tie events only? The KENDRELL tuxedo comes in a very easy to wear dusky pink with black satin shawl collar, which will look on-point with a tailored black pant, but here we have gone casual with our staple LAMASO black V-neck tee and slim stretch WINSOR chinos, also in a dusky shade of pink. The finishing touch and ultimate summer shoe has to be the TANARO driver, which we have crafted from leather and embossed suede with a tri-colour lace to dial up the detail.
Wearing pink takes an additional amount of confidence, and there's nothing more attractive than a confident man..
I GUESS THAT'S WHY THEY CALL IT THE BLUES
We've got every shade of new blue coming your way this summer, from pastel sky to air force blue and new marine through to dark navy. We think you'll look super sharp in the ANDREWS powder blue suit jacket and ADELAIDE pant.
As with all of our tailored separates, comfort is key and this super soft suit comes with plenty of stretch to make for a relaxed slim fit that would look great in any seafront bar, especially when dressed with tonal pieces like our sky WANAKA zip front knitted polo and navy fly knit driver.
And as if the pink velvet was not enough, we have also added this slate blue version of the KENDRELL velvet tuxedo, with a luxe soft touch that feels oh so comfortable, you'll never want to take it off! But that's fine, as this too will look just as good with a bow tie and wing collar shirt, as it does with our sky crew neck CORTE and tonal dusky blue WINSOR chino, which just happens to come with a complimentary webbing belt. You're welcome!
POWER TO THE PINSTRIPE
Synonymous with businessmen and bankers the world over, you don't have to be a wolf on wall street to look the business in our new black pinstripe suit separate, the NORTHOLT jacket and MITCHELL pant.
We've cut this in our ultra-slim block for a very modern take on how to wear a pinstripe as well as softened the shoulder line - no 90's shoulder pads required here!
The peak lapel is a nod towards the double-breasted styles of that power dressing era but, once you add our LORRY BCI cotton tipped polo in black and your favourite sneakers, you're breaking all the rules and ready to power through the day knowing you look as sharp as Gordon Gekko and just as ready to seal that deal!
SCHOOL'S OUT FOR SUMMER
Maybe the last time you wore a tailored jacket and short you were catching the train to school but, this summer, we think it's a great way to look sharp and stay cool!
Building on our summer pastel story, we have the MAYFAIR lilac blazer which has just enough linen to offer a more relaxed silhouette and teamed it with our slim fit cotton polo LORRY in white with burgundy trim detail.
We also pick up on the burgundy with our NORMAN short. These slim stretch chino shorts come in 10 colours - yes, that's 10 colours - all with complimentary belts! What better way to stay cool and look even cooler, every day of the week! The tan TANARO driver finishes off this very summery mix & match combo.
Paul Burden, Head of Design
Paul Burden has an infinite wealth of knowledge in men's style, having worked 30 years in the fashion industry. He's tuned in and turned up to all the latest trends in Australia and around the world. Paul is our Jedi of men's fashion and the Head of Design at POLITIX. He draws inspiration from movies and pop culture, always paying homage to classic menswear styling, and believes great style is being confident with what you wear.