Previous Story
Next Story
S/S 2021
LATEST FASHION FOR MEN - MEET THE GAME CHANGERS
Wednesday 16 September 2020
Fashion isn't driven by people following the rules. It's driven by game changers.
These guys are the leaders, the wild ones, the smooth-talking young guns who aren't afraid to rock the boat. So this year, we rounded up five Australian innovators and asked them to take our new collection for a test-drive. Now these guys aren't exactly your typical style gurus, but that's kind of a good thing. We've got professional gamer, Elliott Watkins. Sydney bearded baker, Ameer El-issa.
Eco business owner, Kevin Garcia. Indigenous basketballer, Jack Roberts-Field. And Aussie TV star, Tai Hara. Each of these guys is absolutely killing it in their particular field (and they scrub up pretty good in a tux, too). Consider this your double dose of spring/summer inspiration.
JACK ROBERTS-FIELD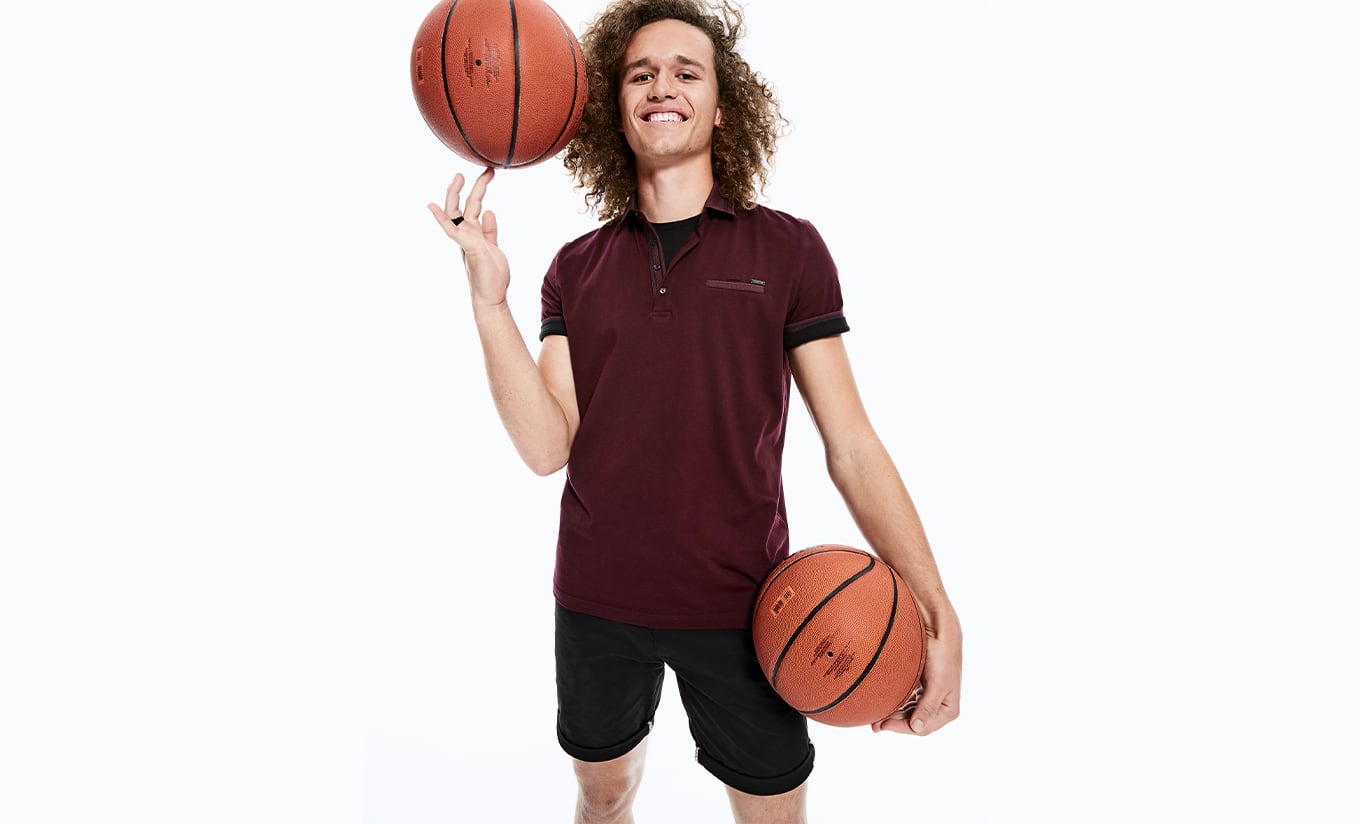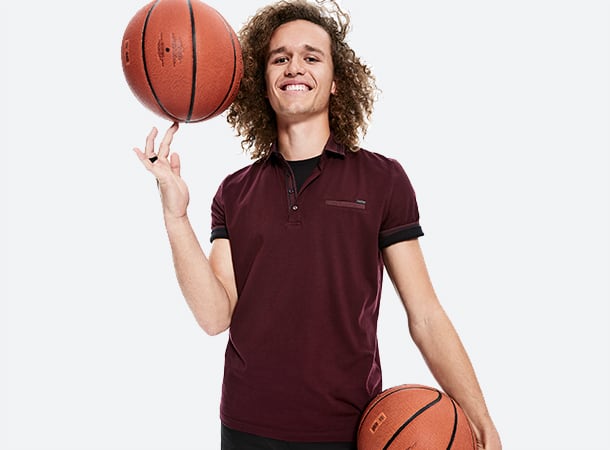 "Opportunity always presents itself, even in the down times. You just have to reach out and take it."
Jack Roberts-Field is an indigenous basketballer and model, with his sights set firmly on the NBA. (He made it through two rounds of try-outs, before COVID put a crimp in his plans). Jack also comes from a big arts family. His mum is head of First Nations Programming at the Sydney Opera House, and a prominent figure on the Australian arts scene.
As a basketballer, Jack's used to wearing shorts, so we've gone for a sporty casual vibe here. You could wear this out for lunch, or meeting your mates for a game of 3v3. Just match black shorts (cuffed, of course) with sneakers and a burgundy polo. Bonus points if you layer that black crew neck underneath.
AMEER EL-ISSA
"I wanted to put our culture on the map. To showcase the Middle East in a way that hasn't been done before."
Ameer El-issa is the founder and creative director of Sydney food empire, The Bearded Bakers. After slinging home-made knafeh from a shipping container in 2014, The Bearded Bakers quickly became a runaway success, with new bakeries opening in Melbourne and New York.
With that killer beard, we've dressed Ameer in cool blue tones: starting at the feet with new season white trainers, paired back with sky blue chinos, a blue floral shirt and our linen blend blue blazer. A simple white tee layered under the shirt is all you need to complete this look...just watch out for crumbs if you're eating knafeh.
ELLIOTT WATKINS
"Things are just changing so quickly, so do something you love. Enjoy it. Put in the hours and get ahead."
You might know Elliott Watkins by his handle, Muselk. He's one of Australia's most successful online gamers, with a lazy 9 million subscribers on YouTube. Elliott dropped his Law degree in 2014 to stream games full-time. Six years later, he's arguably Australia's best YouTube streamer.
Here he's rocking our classic summer vibe: sky-blue double breasted windowpane jacket, light grey chinos and whiskey leather loafers. This look would work for any occasion, from spring racing, an afternoon cocktail party, to crushing your opponents in Fortnite.
TAI HARA
"What drives me is telling diverse and inclusive stories. That's where my real passion lies."
Tai Hara is the classic triple threat: actor, model, and presenter. Since landing the role of Andy Barrett on Home And Away, he's been a staple on Australian screens. He's even made the jump to America appearing on CBS drama, Madam Secretary. Along with his TV work, Tai is involved with several charities, including Generation Against Poverty and Australian Indigenous Mentoring.
Come on, Tai's a TV star, right? He needs a tux. But not the full-on James Bond version. A lot of guys think tuxedo means you have to go all the way, but here we've matched a black velvet double breasted jacket with simple light grey dress chinos, for a slightly more casual vibe. High-shine patent loafers finish things off nicely.
KEVIN GARCIA
"I dived straight into business and never looked back. It's kind of addictive. I can't see myself doing anything else."
In 2017, Kevin Garcia had a bright idea and today, he's the co-founder of multi-million dollar sustainable Australian business, Karst, which takes commercial rock waste and turns it into planet-friendly paper.
For Kevin, we wanted something that said 'business meets pleasure'. This is a great example of how suiting separates, like grey suit pants, can match with more casual gear. We just paired a burgundy suede bomber with black sneakers and a black knit crew neck tee. The trick is keeping those earthy tones together.