Previous Story
Next Story
MEN'S FASHION
Your no-fuss

autumn shirt guide
Friday 7 March 2020
The humble shirt should be the backbone of your wardrobe. There's no faster way to make a guy look classy as all get-out.
But for people who mentally preface 'shirt' with 'Hawaiian', it can be intimidating to know where to start. How many florals is too many florals?
Which shirt is right for which occasion? And what are micro geos anyway? Chill, Winston. Consider this your no-fuss autumn shirt guide.
01
Colour Scheme
As you'd expect, we're moving away from nautical blues and whites and into more earthy, boozy, night-by-the-fire sort of colours. Think wine, burgundy and burnt orange. You're going to see a lot of tan and stone shirts this year, too, slim-cut for that narrow silhouette. Don't be afraid to double-up a stone shirt with a stone suit – that's a killer look for after-work drinks.
02
The Kew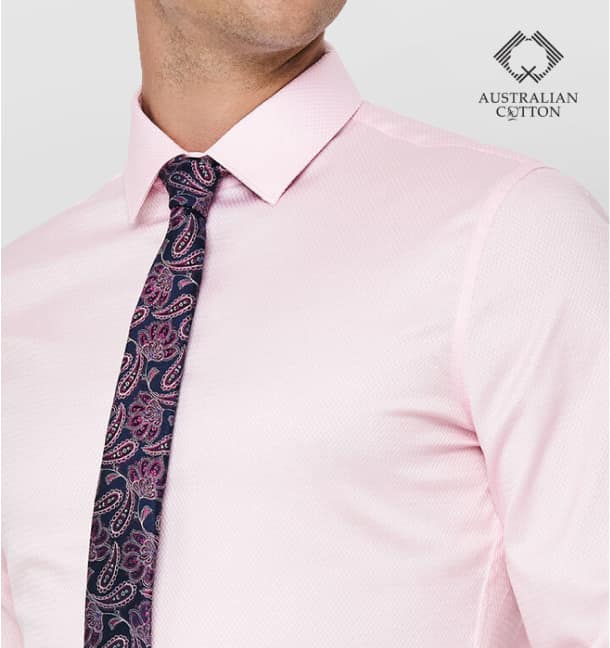 Our new autumn collection also features something kind of special. It's called The Kew, and it's our first 100% Australian Cotton business shirt. At the moment you can get it in sky-blue or light pink, and you'll feel the difference as soon as you chuck it on: The Kew is lighter and more breathable than traditional business shirts, with barrel cuffs and a silky, textured finish.
03
Business Shirts
Speaking of business shirts, we've decided to channel some old-school, heritage vibes this season. Along with new textured plain options, we've introduced a subtle Prince of Wales (AKA the famous Glen Plaid), a micro-spot Oxford, and a white-collared Bengal Stripe straight out of Wall Street. You can practically hear the ring of chunky, 1980's car phones.
04
Subtle Florals
You don't have to wait for springtime for florals. In fact, they're a pretty versatile print year-round – something that can easily transition from office to rooftop gin bar. Open space florals, paisley and Jacobean florals are all going to be key trends this year. And for the guy that loves to peacock (you know who you are) check out the punchier patterns in navy and crimson.
05
Micro Geos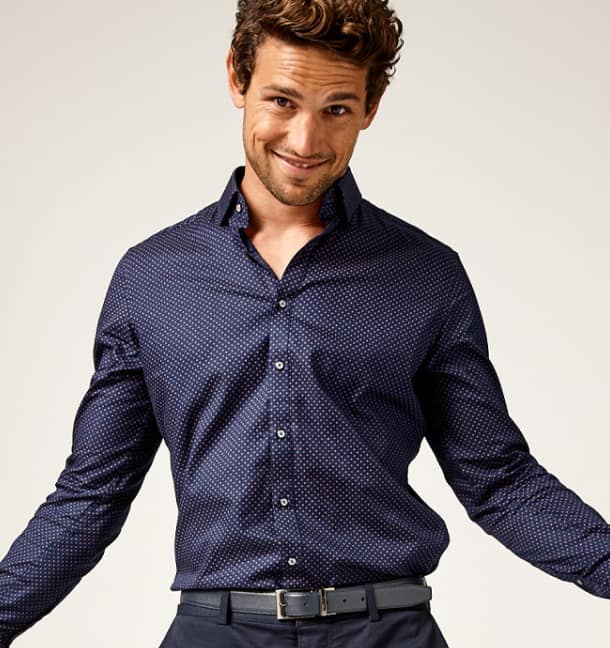 Micro geos (or micro geometric prints) are perfect for the guy who's scared of flowers. They broadcast a little character... rather than shooting off mega-watt personality lasers. You'll notice those rich, autumnal colours flowing through our micro geo collection, too. Lots of tan and rust and plum. It's a great pattern for Friday night drinks, or your weekly 9-5 office rotation.
06
POLITIX LUXE
Want to get your mitts on the finest Italian craftsmanship while, you know, still having money left for rent and food? You're not the only one. This is why we launched our new POLITIX LUXE label: beautifully crafted, slim-fit Italian dress shirts... for reasonable human prices. POLITIX LUXE shirts are 100% cotton, and you can get them for just $179 a pop. Molto bene.