Previous Story
Next Story
S/S 2021
Cool Summer T Shirts | Style Tips For Men
Thursday 3 December 2020
By Brad Mclennan, Designer
How to style a white t shirt for men (or any t shirt)
Summer is here and it's time to get out (finally) and explore our own backyard again. Here at POLITIX, we want to show you some simple tips and tricks to effortlessly style that hot weather staple: the humble t-shirt.
The biggest mistake guys make with t-shirts is treating them as disposable. Tees don't just belong inside the house, or scrunched up in a gym bag.
Armed with the right style tips and shapes, and with a little TLC, your t-shirts can keep you looking stylish for a surprisingly long time.
But there are a bunch of different styles, colours, materials and cuts available. Here's our ultimate men's t-shirt guide, to help make your summer a breeze (literally).
The Perfect T-Shirt Fit
The way a t-shirt fits can say a lot about a guy. Want to look like you've given up? Don't care anymore? Then stick to a loose, oversized shape that's ill-fitting around the sleeves and way too long for your body. Or if you want to look like an overstuffed turkey, then go for two sizes too small. These are the most common t-shirt mistakes.
But, if you want to look effortlessly comfortable in your own skin, then follow these simple steps to make sure your t-shirt is doing all the right things.
First, you want to make sure that you're emphasising your assets, without overcompensating. Sleeves should sit roughly halfway down your bicep. This actually makes you look taller and, let's face it, makes Arm Day totally worth it.
Second, you want a slim fit through the shoulders and chest. And by slim we don't mean painted-on. There should be enough room for a breeze to come through, but not enough to fit two people in there.
Third, a classic t-shirt should sit just after below your hips. This will help avoid 90s crop-top moment when you raise your arms above your head.
And lastly, a perfect fitting t-shirt isn't restrictive – it should skim the body, giving you enough room to move and bend.
Our tip: always try on a knit or jacket when you're fitting a t-shirt. This will make sure you don't get excess bunching under your arms. You'll know you have the right size when it's snug, but comfortable.
The Crew neck and The V Neck Tee: What's the difference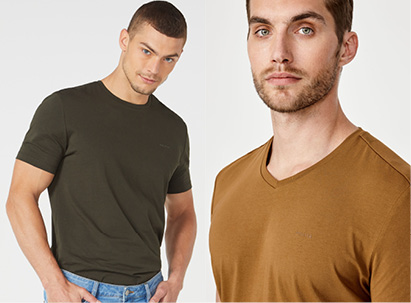 Ah, the old crew neck vs V-neck debate. There' is a time and a place for both of these neck shapes.
A crew neck t-shirt is the most versatile. You can wear it on its own or layered underneath shirts, knitwear and jackets. It's a go- to shape that you can "throw and go" in basically any colour or shade.
Some fun facts that you might not know about the crew neck:
Crew necks draw the eye out and create the illusion of square shoulders, which is perfect for someone with sloped shoulders and a short neck.
There are so many different neck shapes out there, but don't get thrown off by raw hems or boat necks. Let's keep things simple and talk about the only other necessity in your wardrobe: The V-neck.
A V-neck t-shirt elongates your neck and makes you look taller (good for shorter guys out there). It also provides balance to wider faces by exposing more skin. The overall effect is kind of slimming.
The V-neck is a sleeker version of its crew-neck brother, and works perfectly under suiting and blazers. You just need to figure out which colour and material suits you best.
How to wear a white T-shirt (or any colour)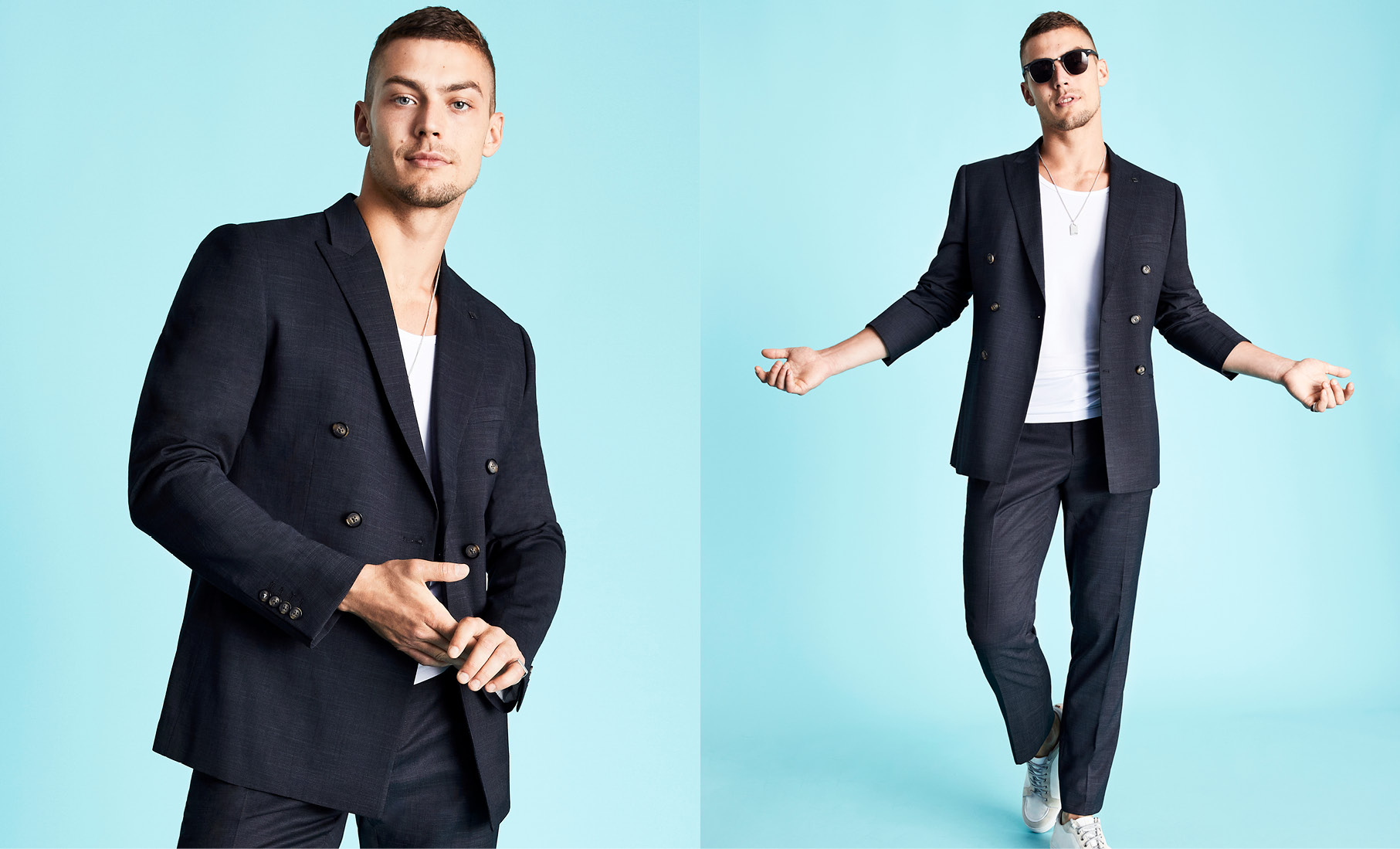 Gone are the days of repping a Marlon Brando look in the t-shirt stakes.
Everyone loves a staple coloured tee. Whether it's white or black, you need a few of these in your wardrobe and not just for wearing with jeans. Up the ante and go bold with a casual suiting look. It takes what could be a stuffy, room- filling style, and makes it look like you just woke up in this. Effortless. Natural. Cool.
These timeless shades (including navy) are essential for a good wardrobe. Some people say basic—, we say anything but. They have the ability to tie an entire outfit together, and you'll get plenty of mileage out of them year-round.
*Insert broken record*
We're all working from home a lot now, which means we're wearing more and more t-shirts, even as 'workwear'. If you're rocking a tee five days a week, you need to start injecting some colour.
And guys, colour doesn't mean blue. Anyone heard the song 'Over The Rainbow'? Yep, there are plenty of great colours and shades out there. Try and have some fun with your tees. Pinks, tans, khaki, burnt oranges and pastel shades are all good choices here. All you need to do is go tonal for a simple look, or mix it up with contrast colours: light on top and dark on the bottom.
Why T-shirt Fabric is so important
Okay, let's break it down. Does it really matter what fabric your t-shirt is made of? Well, kind of yes.
Thicker cottons normally scream quality to most guys, but that's not always true. Usually, the thicker the fabric the worse the quality, at least in jersey fabrics. Opt for a lightweight smooth cotton fabric, like our BCI cotton jersey used in all POLITIX t-shirts. We've gone for a long staple combed cotton (that means soft). It feels like a second skin.
Being 100% cotton means your t-shirt isn't going to make you sweat. You'll thank us later.
Steer clear of elastane blends that will hug you in all the wrong places. And for your own sake, say a firm 'No' to polyester blends.
Fun fact about our POLITIX Jersey fabrics: the surface is actually fired to remove excess fibres, which is how we get that soft, smooth, gotta-touch finish.
There's nothing better than a good cotton tee, so make sure you choose your fabric wisely.
Printed Tees are the New Normal
It's been over 10 years since we've had printed tees in the POLITIX range, but with the rise of casual dressing, they're definitely overdue for a comeback. Being known for our love of all things print and pattern, we've designed a range of graphic tees to suit every guy (and his dog).
Graphic tees can make a statement with a slogan that's relevant to how you feel, or an illustrated graphic that can subtly broadcast your #mood.
On simple shades of white, black and navy, the placement print says it all. From floral bouquets to photographic scenery, we've nailed weekend street style with these placement tees. They're the kind of t-shirts you wear on their own. No layering or fancy accessories required.
If you want to add a little something, feel free, but please don't match them with a velvet jacket. Your mum wouldn't be proud.
T-Shirts aren't just for the Gym
Badly fitted t-shirts in the gym are a definite no-go. So in the interests of saving you pain, here are some contemporary summer t-shirt styling tips.
Rule #1: Justin Timberlake may be all about the suit and tie, - but it's ok okay to ditch the tie.
Opt for a t-shirt with a shirt instead. It gives a layered look, just like a shirt and tie, with way less starch and way more personality. Start with your suit and work out the best colour to match: basics like white and navy work well with greys and blue checks. If you're going black, either go tonal or add a marle in there for texture.
If you want to dress down for the weekend, or if you're lucky enough to be on a yacht, layer a t-shirt with a revere collar shirt (three buttons undone) for a simple-yet-classy look. The tee really adds to the comfort factor here, especially for guys who might be self-conscious about open shirts.
It's time to scrap the idea of t-shirts only being useful on a reno site, in the garden or while you're running. There's way more to summer tees than that.
Brad Mclennan, Designer
Bradley Mclennan has been with POLITIX for 5 years as a designer, and has over 11 years' experience across womenswear, everyday brands and streetwear. He has always been fascinated with how a creative outlook affects people's lives. A great song. An inspired building. Brad love's to push the boundaries. He's the guy injecting colour and pushing the team to be bold. Bringing the whole thing together with an insane attention to detail.