Previous Story
Next Story
Gift Guide
Christmas Gift Ideas For Him
Thursday 25 November 2021
Gifting Ideas For Him
Gift ideas for men are tough, especially if you start shopping on Christmas Eve, when all that's left on the shelves are novelty socks and liquorice all sorts. But don't panic. We have a great range of Christmas gifts for men this year. Perfect for the guy who says, "I don't know…I don't really need anything." That guy is the worst.
THE GUY WHO LOVES TO BUCKLE UP
A new belt for the gents in your life is always a great Christmas gift. Our gunmetal Belt Gift Box comes with two buckle options and a reversible brown or black leather strap, so you're basically getting four belts for one. Not too shabby.
Oh, and if gift-wrapping isn't your thing, no need to worry: the belt gift pack comes in a schmick gift box. It's a thoughtful present that looks sharp and won't break the bank. That's the holy trinity right there.
THE GUY WHO LOVES TO MAKE A STATEMENT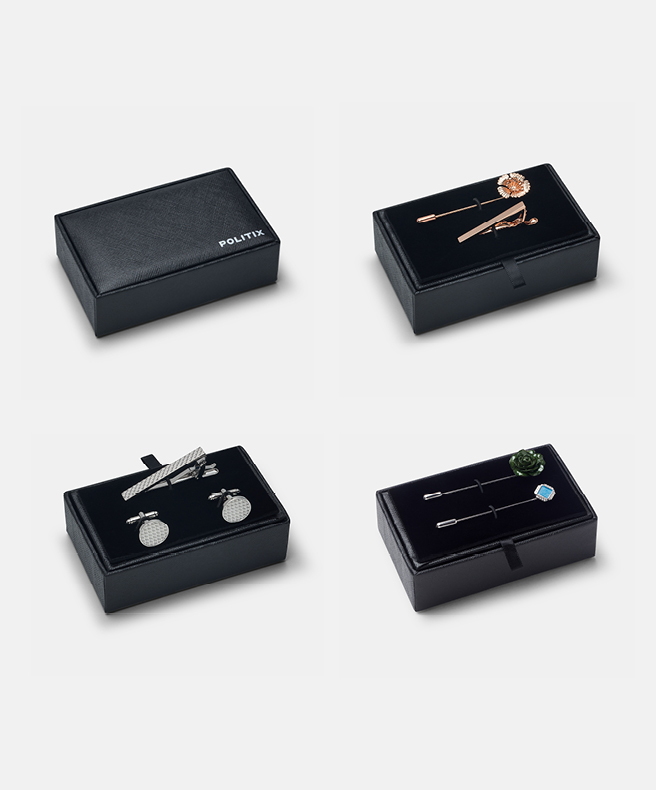 Gift boxes for men? Yep, it's a thing. Swap out those go-to socks and jocks stocking fillers with our easy gift sets. Perfect for the guys who love to make a statement with their accessories.
Matching cufflinks and tie pins, tie pins and lapel pins. 2 set pieces that are luxurious and great value. Already packaged for you in an easy-to-wrap gift box so all you have to do is add a bow and sign your name.
THE GUY WHO LOVES SUMMER
Christmas means summer, and that means men's summer gifts. Our seasonal collection of men's swim shorts is sharp, playful, and comes in a range of eye-catching colours. You can basically wear these guys straight from the beach to the bar. They're quick-dry, too, for extra comfort.
If he's got men's swim shorts covered, channel some summer vibes with one of our slim-fit stand collar pique polos. Available in a range of shades including pink, blue and navy - these polo shirts are made from organic cotton. That means he'll be doing good, not just looking good.
THE GUY WHO LOVES GOING OUT
Men's fashion gifts can be tricky, but it's easier if you follow his lead. If he never leaves the house without shorts, a new pair of boardshorts, chino shorts or linen shorts are a pretty safe bet. Likewise for chinos, jeans, blazers and swimwear.
If you're shopping for a guy who loves a good summer session, POLITIX is bringing back the heat this year. We've got new season shorts, plus all new short-sleeve shirts, including linen blends and summer florals.
Gift for shoe lovers
We all know a closet shoe addict, right? Some guys just can't get enough: leather sneakers, Chelsea boots, Chukkas in every shade and colour, espadrilles, monk straps, loafers, boat shoes. The collection is never finished. If you're looking for Christmas gift shoes, we've got a new summer range that'll make him flip.
The best place to start is his wardrobe. Is he missing a pair of flyknit drivers? Or maybe a smart pair of dress loafers? How about suede slip-ons with an espadrille outer sole? Try and get a feel for his style: some guys prefer leather trainers in summer, while others go for sandals.
Gift Cards
If all else fails, there's always a Politix gift card. Nothing says you're-impossible-to-buy-for-and-I'm-sick-of-it like a gift card.
On the plus side, he'll be able to grab something he's guaranteed to like, and you can earn maximum brownie points with very little risk. You can purchase Politix gift cards at your nearest Politix store.
Fern Chen, Designer
Growing up in New Zealand, Fern Chen loved fashion and textiles. Fern joined the Politix design team in 2018 after building her fashion career in London, working with top European designers. She brings tonnes of menswear experience, along with a keen eye for detail (when it comes to men's clothes, nothing gets past Fern). Her favourite part of the job? Seeing her designs come to life on Politix customers.