Next Story
AW21
An Essential guide to layering with knitwear
Thursday 24 February 2021
By Brad Mclennan, Designer
Layering for the cooler months.
Knitwear is great for those in-between seasons, when it's too hot for an overcoat, but too cold for a tee. In the business, we call these pieces 'transeasonal layers'. They're what you wear over or under something else. And knitwear fits the bill perfectly, with its warm weave and natural fibres.
There are four basic knitwear staples that every guy should have in his wardrobe: crew necks, V-necks, cardigans and hoodies.
You want something versatile that can layer up or down, depending on the weather.
Natural wool blends are also important: we're talking proper knitwear that'll lock in the warmth. We've built this collection with different necklines and colours to make outfitting easy. Check out our guide to key knitwear styles and how to wear them.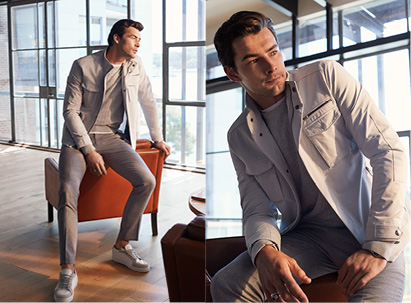 THE CREW NECK CHAMELEON.
The crew neck is probably the most important lightweight knit. This guy can be worn on its own, with denim or chinos, but it also works well with suiting and blazers. All you have to do is layer a collared shirt underneath.
Our Bundy Crew Knit comes in six colours this season: Grey Marle, Tan, Plum, Blue, Navy and Black. Whether you're going for a tonal look, or that pop of contrast colour, this versatile style is an easy choice for autumn.
It's made from BCI Cotton in a lightweight gauge, so it's not going to bulk-out your suit jacket or blazer.
To refresh the classic crew neck this season, we've also added a diamond texture to the front body, plus contrast tipping stripes on the back hem. Layering with the crew neck means there's a lot more fabric showing, so it's important to pick a knit that has added texture or some kind of flair. You don't want to look like a solid brick of colour.
THE VERSATILE V-NECK KNIT.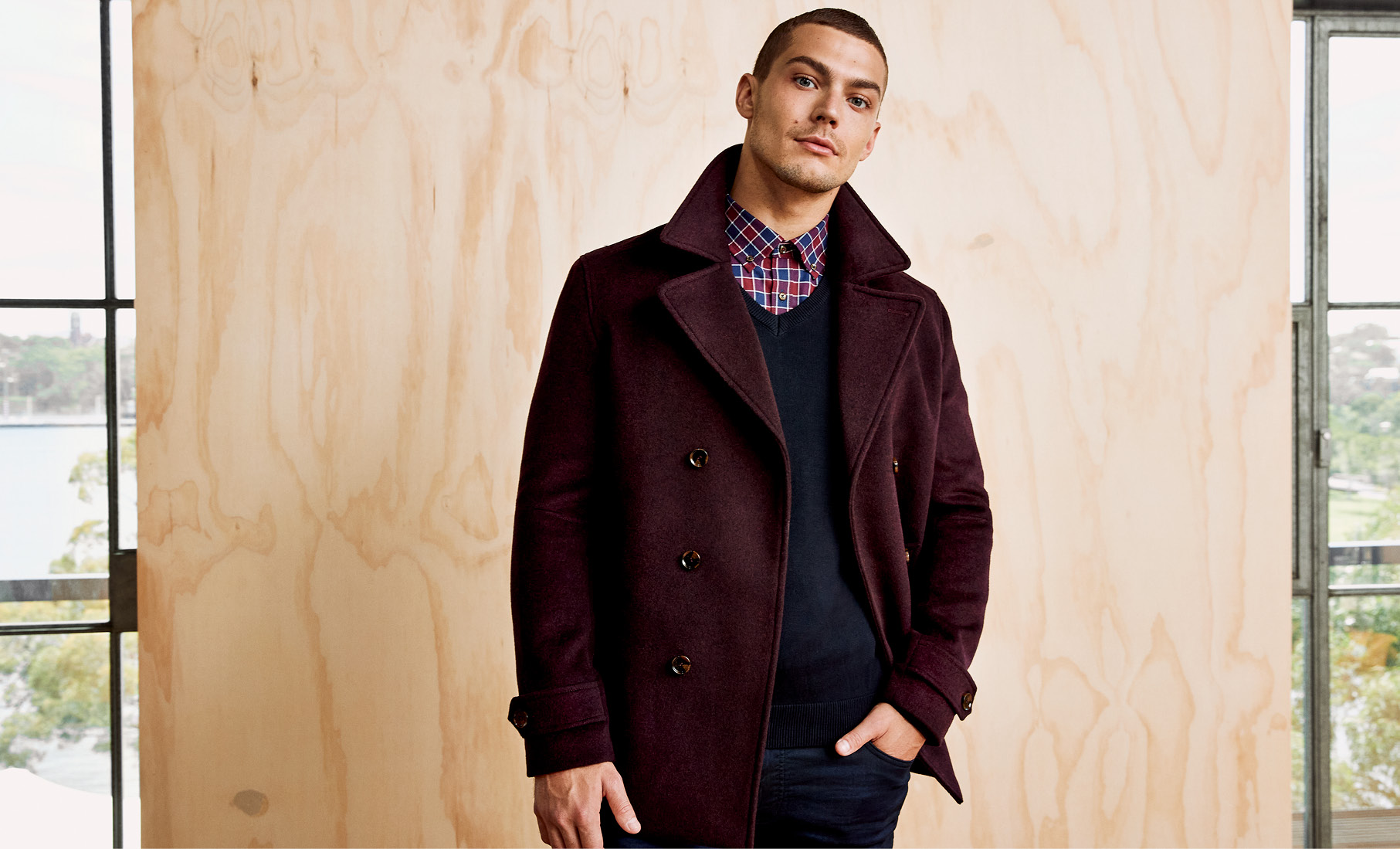 We've said it before: V-necks make you look taller. The sharp V elongates your torso and slims down your profile. It also provides balance to wider faces by exposing more skin. Nice, right?
Remember, V-necks frame your face and widen your shoulders, so when layering with a tee, always go for a darker shade knit. Dark over light—never the other way around. When it's a button-up shirt, choose a colour or print that works with your skin tone.
Our Penrose V-Neck Knit comes in three colours to match with common outerwear staples. (Thank us later.) There's Navy, which goes with everything from grey to blue and all shades of tan; Grey Marle, to add some texture to that classic black tailored jacket; and Brown Marle, for those warm, earthy pieces, like brown suede leather or sand trench coats.
With a deeper shape around the neckline, it's better to go for a smooth knit here—also known as a jersey knit. So that's exactly what we've done. We've also used Melange yarns to add a little subtle texture.
THE NOT SO GRANDPA CARDIGAN.
Don't write off the humble cardigan. We're not talking grumpy old men here—our cardigans are cut for a more contemporary look. This style is great for a throw-and-go, when you really don't know what the weather's going to do (Melbourne, we're thinking of you here).
The cardigan is a lighter and more casual knit. It's good for dressing down tailored looks—especially if vests aren't your style—or layering under weekend leather jackets.
If you're like most guys and you can't be bothered carrying 17 layers around, no problem. When the weather warms up, just undo some buttons. That's what they're there for.
Our Buckingham Cardigan comes in lightweight jersey knit yarn, and it's made from 100% BCI Cotton. With that rich navy weave and contrast burgundy stripe on the neckline, it frames the chest with a pop of colour (and makes you look like three inches taller).
THE PULLOVER HOODY.
The Pullover Hoody is an awesome transeasonal piece. It's not just for hood rats and running around the supermarket anymore.
This guy is great for when you want to ditch the shirt-and-tie combo. It's a simple and comfortable way to add some texture (without looking like you're trying too hard). Whack on a blazer with some tan chinos and you're ready for work. For weekend coffee dates, try it with selvedge denim and some good-quality suede leather boots. Classic autumn look.
We've got all the colour options you need in the Colombo Pullover Hoody Knit. It's really simple: you want one light Marle (step in oatmeal) and one dark Marle (step in charcoal). Adding these two honeycomb, textured knits to your wardrobe will save you plenty of time. They match with basically everything. Well that's it, folks. After reading this, you've mastered the basics of layering men's knitwear. Stay warm out there.
Brad Mclennan, Designer
Bradley Mclennan has been with POLITIX for 5 years as a designer, and has over 11 years' experience across womenswear, everyday brands and streetwear. He has always been fascinated with how a creative outlook affects people's lives. A great song. An inspired building. Brad love's to push the boundaries. He's the guy injecting colour and pushing the team to be bold. Bringing the whole thing together with an insane attention to detail.